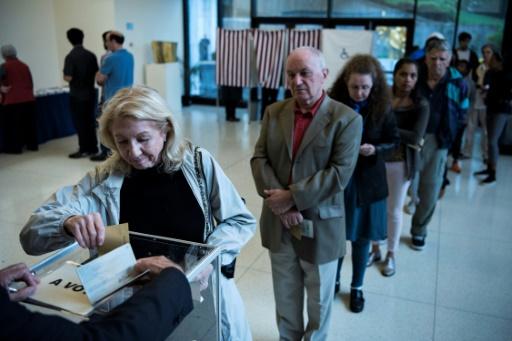 From London to Berlin, Washington to Tel Aviv, French voters lined up at polling stations abroad at the weekend to cast ballots for one of the closest presidential elections in years back home.
Around 1.3 million French people abroad are registered to vote -- representing around two percent of the total electorate.
In London -- often called the sixth biggest French city -- hundreds of people queued up outside the two polling stations well before they opened on Sunday, with some waiting up to two hours to vote.
"In London, we're expecting perhaps 50,000 voters, so it's going to be a busy day," said Edouard De Guitaut, in charge of a polling station at a French school in London's upmarket South Kensington.
Sunday's first round presidential election is being closely watched after Donald Trump's victory in the US election and Britain's shock vote to leave the EU.
But the result of the race between the four front-runners -- centrist Emmanuel Macron, far-right leader Marine Le Pen, conservative Francois Fillon and Communist backed Jean-Luc Melenchon -- is too close to call.
"I have dual nationality, so I voted against Brexit. I think it's really important to vote everywhere, because I'm affected everywhere," said student Elise Lauriot Prevost.
The face of one candidate was absent from posters displayed outside the voting booths abroad -- Le Pen's National Front (FN) did not deliver them in time, according to the French foreign ministry.
- 'Not another Trump' -
In Berlin, people braved rain and hail in in queues extending for up to 200 metres (yards) outside the French embassy in the shadow of Brandenburg Gate.
As they waited, voters chatted amongst each other, some debating what a victory for Le Pen or Melenchon could mean for France and Europe.
Residents in French overseas territories such as Martinique and Guadeloupe in the Caribbean had begun voting on Saturday, along with expatriates in the United States, Canada and Latin America.
Adrien Gontier, voting in the rainy US capital Washington on Saturday, said he was fulfilling his duty as a citizen.
"In the United States, you can see what happens when people don't vote, or vote badly," he said. "We don't want there to be a Trump in France."
- Security strengthened -
Security measures were strengthened at the 69 polling stations across the United States following a jihadist's killing of a policeman in Paris on Thursday night that put the country on edge after a string of bloody terror attacks.
The French consulate in New York was briefly evacuated late Saturday after a suspicious vehicle raised fears of a bomb threat.
"After the Champs Elysees attack, the New York police department was told to be especially vigilant," Consul General Anne-Claire Legendre said.
Analysts said the policeman's killing could shift opinions, possibly handing an advantage to candidates seen as taking a hard line on security, such as Le Pen.
In the Argentine capital Buenos Aires, voters cast their ballots Saturday in the French embassy, housed in the grandiose Ortiz Basualdo Palace.
Retired doctor Pierre Aguerre, 78, said he was taking part "against the extreme right".
"This is an important moment in the history of France," he said.
"A lot of people have come to vote," said his wife Noemie Nabel, 75. "I think the attacks have mobilised people."
Caroline Rostain, 41, said she was surprised by a campaign that included corruption allegations and fluctuating polls.
"I was disappointed by so much lack of transparency and ethics during the campaign," she said. "I think we're lagging behind our European neighbours." afp