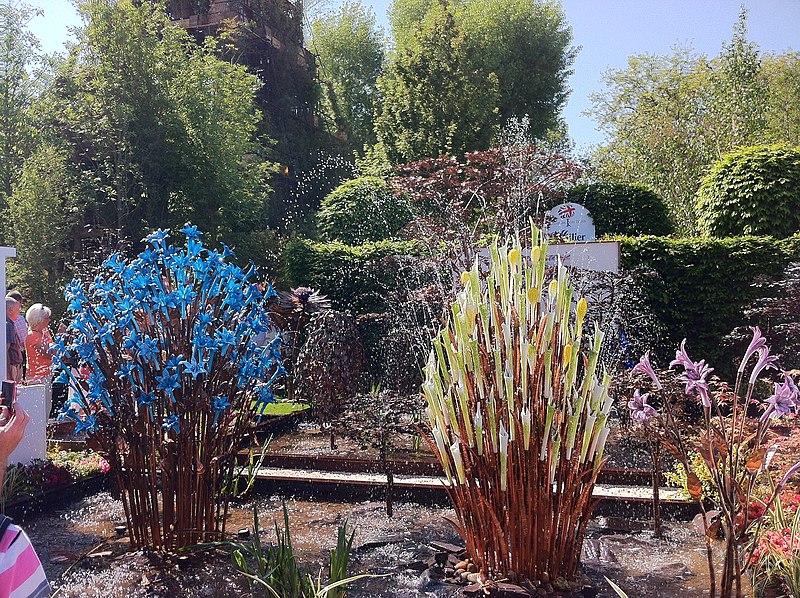 The Chelsea Flower Show never fails to amaze with its breathtaking gardens, and this year's event is no exception. The show gardens have transformed from mere
earth and grass just three weeks ago into horticultural masterpieces that exude meticulous planting and design, giving the impression of age and timelessness.
Among the remarkable medal-winning gardens, Cleve West's Gold-winning Centrepoint garden stands out, nestled amidst the ruins of a derelict Victorian terrace house. Jihae Hwang's 'A Letter From a Million Years Past' garden, inspired by Korean flora, beautifully portrays the intricate relationship between people and nature.
The Great Pavilion is also a sight to behold, showcasing an abundance of exhibits from sensational plant nurseries, florists, and even mushroom growers. The fragrance of David Austin roses permeates the air, with the spotlight on their new introduction, the highly fragrant apricot-colored rose named 'Dannahue.'
Noteworthy themes at this year's Chelsea Flower Show include a shift towards Mediterranean-style gardens, reflecting the changing climate, particularly in London and the South of England. Keep an eye out for the earthy tones of the Silver-Gilt-winning Hamptons Mediterranean Sanctuary garden by Filippo Dester of Garden Club London, as well as the majestic Stone pines in Sarah Price's Gold-winning garden inspired by Cedric Morris on Main Avenue.
Nature-inspired gardens remain prominent, demonstrating the enduring fascination with wild elements. Jihae Hwang's Gold-winning Korean mountainside landscape and Jon Davies and Steve Williams' Silver-winning Centre for Mental Health Garden skillfully utilize rubble and weeds to illustrate how nature can transform human spaces into healing environments.
Contrary to pre-show speculation about the prevalence of weeds, the gardens at this year's show are far from being defined by them alone. The Gold-winning gardens of Charlie Hawkes, Chris Beardshaw, and Harris Bugg showcase lush and vibrant plantings, dispelling the notion that gardens are solely composed of rubble and weeds.
The Chelsea Flower Show 2023 continues to captivate visitors with its outstanding gardens, offering inspiration, beauty, and a profound appreciation for the artistry of horticulture. Photo by Andrewrabbott, Wikimedia commons.
Medals in full 
Show Gardens
GOLD & BEST SHOW GARDEN
Harris Bugg Studio
Horatio's Garden
GOLD & BEST CONSTRUCTION AWARD
Cleve West
The Centrepoint Garden
GOLD
Sarah Price
The Nurture Landscapes Garden
GOLD
Chris Beardshaw
Myeloma UK - A Life Worth Living Garden
GOLD
Jihae Hwang
A Letter From a Million Years Past
SILVER-GILT
Paul Hervey-Brookes
RBC Brewin Dolphin Garden
SILVER-GILT
Gavin McWilliam and Andrew Wilson
Memoria & GreenAcres Transcendence Garden
SILVER-GILT
Mark Gregory
The Savills Garden
SILVER-GILT
Darren Hawkes
Samaritans' Listening Garden
SILVER-GILT
Tom Massey
The Royal Entomological Society Garden
SILVER
Jon Davies and Steve Williams
Centre for Mental Health's The Balance Garden
SILVER
Jilayne Rickards
The Fauna & Flora Garden
Sanctuary Gardens
GOLD, BEST CONSTRUCTION & BEST SANCTUARY
Charlie Hawkes
National Brain Appeal The National Brain Appeal's Rare Space Garden
GOLD
James Smith
London Square The London Square Community Garden
GOLD
Kazuyuki Ishihara,
The Biophilic Garden Otsu – Hanare
SILVER-GILT
Filippo Dester
Hamptons Hamptons Mediterranean Garden
SILVER-GILT
Martyn Wilson
The RSPCA Garden
SILVER-GILT
Thomas Hoblyn
The Boodles 'Best of British' Garden
SILVER
Taina Suoni & Anne Hamilton
Cavernoma Society The Cavernoma on My Mind Garden
Balcony and container gardens
GOLD
Emma Tipping
The St George 'Alight Here' Balcony Garden
GOLD & BEST BALCONY AND CONTAINER GARDEN
Rosemary Coldstream
Feels Like Home
SILVER-GILT
Katherine Holland Garden
Design The Folio Society's Reading Room Garden
SILVER-GILT
Christina Cobb
The Restorative Balcony Garden sponsored by Viking
SILVER-GILT
Amelia Bouquet and Emilie Bausager
The Platform Garden
SILVER-GILT
Joanne Edmonds and Camilla Windsor-Clive
The Hampden Stargardt Garden
SILVER-GILT
The Chelsea Gardener
The Shifting Garden
SILVER
Gini Denison-Pender, Philippa Craddock and Anna Garner
The Doorstep Library Garden: Words Take You Places
BRONZE
Julie and Andrew Haylock
The Mary Anning Space to Learn Garden
All about plants gardens
GOLD & BEST ALL ABOUT PLANTS GARDEN
Joe & Laura Carey
The Talitha Arts Garden
GOLD
Nicola Semple and Susan Begg
Teapot Trust: Elsewhere Garden
SILVER-GILT
Camellia Taylor
The Natural Affinity Garden for Aspens
SILVER-GILT
Harry Holding
School Food Matters The School Food Matters Garden
SILVER-GILT
Jane Porter
Choose Love Garden
SILVER
Alexa Ryan-Mills
The Sadler's Wells East Garden
The Great Pavilion Awards
The Best Exhibit in the Great Pavilion: Kells Bay House & Gardens for The Ferns of Kells Bay Gardens
The New Design Award: Mushrooms - the homegrown edibles collection - by Caley Brothers
Best Discovery Exhibit: Sparsholt College's Rustic Recipes Reimagined
House plant awards
Best House Plant: Geb & Green's Steam.Clean.Plant. Repeat
Floristry awards
Best Floristry Exhibit: The Beauty of Recycling Floral Bin by Hubbards Florist
Ambassadors' Choice: Emma Thistlethwaite for Annual.