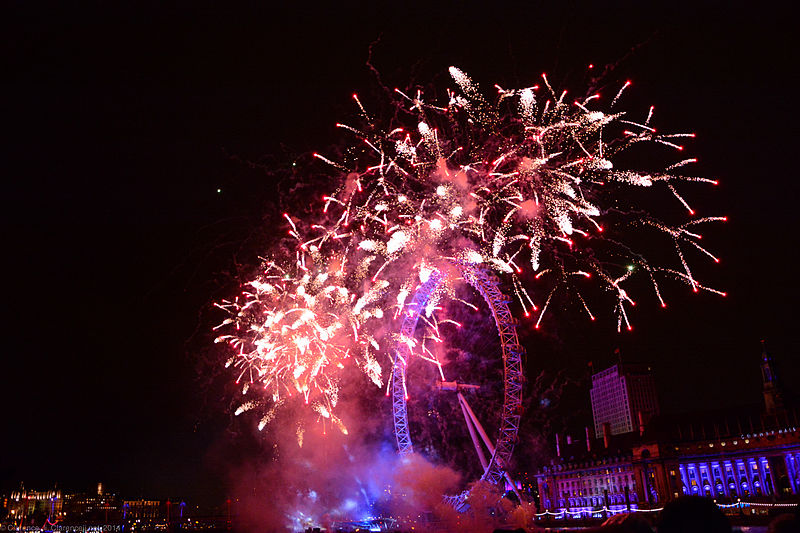 London has welcomed in 2022 with a dynamic broadcast show featuring fireworks, lasers, drones and live performances.
The special broadcast event on BBC One was organised by the Mayor of London, Sadiq Khan, to celebrate the defining moments of 2021 and look ahead to 2022.
Millions of people watched from home and around the world, as a countdown beamed out from the Shard, before Big Ben's famous bongs rang out to mark the new year and signal the start of a unique 13-minute show.
The show highlighted the best of London and the UK to a global audience, with the biggest drone display ever in the UK. 500 drones showcased London's world-class entertainment, music, events and sport, as well as celebrating London's diverse communities. This year's show was the city's most inclusive display, with messages for LGBTQ+ communities, EU Londoners, Afghan refugees and Hong Kong Londoners, amongst others, as well as a powerful statement to support England's footballers in their stance against racism. 
For the first-time ever, live performances celebrated London's culture industry, which has been devastated by the coronavirus pandemic. 85 members from the West End Musical Choir performed from Shakespeare's Globe, while on Millennium Bridge, Hamilton actor and Londoner Giles Terera performed a poem written specially for the moment by London-based writer Tomfoolery. The show was further supported by messages from Brit award winner singer-songwriter Paloma Faith, and Mercury music prize nominee, Jessie Ware.
Fireworks and drones were launched from Old Royal Naval College, Greenwich to music from Elton John, Dua Lipa and Blur, alongside words from Sir Ian McKellen, England Manager Gareth Southgate and the Mayor of London.
The poem paid tribute to significant moments throughout 2021, including the incredible efforts of NHS staff in rolling out the vaccine programme, the Men's England football team achievements at the Euros; Emma Raducanu's triumph at the US Open; Tom Daley's Olympic gold success; the 124 medals won at the Paralympics and Marcus Rashford's food poverty campaign which gave out 21 million free school meals. 
With 2022 set to be another huge year for sport in the UK, a message to England's Lionesses was also featured ahead of the Women's UEFA EUROs coming to the capital later in the year. The display concluded with a spectacular fireworks finale, and a rendition of Auld Lang Syne at Shakespeare's Globe.
The Mayor of London, Sadiq Khan, said: "There is no doubt that 2021 has been a tough year for us all, but there has also been so much to be proud of. I am delighted that we've put on a unique display showcasing the very best of London to the rest of the world – from paying tribute to our heroic NHS staff for their efforts in the vaccine rollout to the inspiring work of our sporting stars on and off the field.
"For the first time ever, we also included live performances to celebrate London's world-class creative sector which has been hit hard by the pandemic. Our unique cultural offer is one of the reasons we are the greatest city in the world, and I'm delighted that tonight we have sent a message to the world that we are strong, we are resilient, and we can look forward to 2022 in London with excitement."
Laura Citron, CEO of London & Partners, which runs Visit London said: "We've seen London show it's creativity and resilience this year with new cultural attractions, hotels, restaurants and theatre shows making a splash in 2021 and attracting visitors back to our city. With events such as the Queen's Platinum Jubilee celebrations and the UEFA Women's Euro football tournament at Wembley, there are lots of new exciting things for visitors to experience in London in 2022. We look forward to welcoming people from across the UK and the rest of the world next year to enjoy everything London has to offer."  
Matthew Mees, Chief Executive of Old Royal Naval College, said: "We are thrilled that the magnificent Old Royal Naval College, Greenwich, is the backdrop for London's innovative New Year's Eve firework and lights display this year. The broadcast spectacular showcases this extraordinary cultural destination and architectural wonder at the heart of Maritime Greenwich World Heritage Site. We are so proud that the Old Royal Naval College's breath-taking buildings and iconic riverside setting make up this defining moment at the end of 2021 for the whole world to enjoy."
Neil Constable, CEO of Shakespeare's Globe, said: "All of us at Shakespeare's Globe are delighted to be part of the Mayor's celebration for New Year's Eve. After another challenging year for culture, we are looking forward to bringing our audiences back, and proud to start 2022 by showing our beautiful theatre to the world - full of music, bringing us into a brighter future for theatre in London."
Julian Bird, CEO of Society of London Theatre, said: "2021 has been another challenging year for the theatre industry but we look ahead to 2022 with hope and optimism. We are grateful to our audiences for coming back to the theatre and for the resilience and creativity of our theatre workforce. The Mayor and his team have supported us throughout with their Let's Do London campaign  and we are delighted that the importance of live performance is recognised in their New Year celebrations.' 
An FA spokesperson said: "In what has been another challenging year for the women's game during the pandemic, we have seen unprecedented interest in our sport thanks to the quality of our players on the pitch and increased visibility due to new broadcast deals at both domestic and international level. There is much excitement for next year as we host the UEFA Women's EURO in July, which presents a tremendous opportunity to grow the game even further, and hopefully see the Lionesses win their first major trophy."
Photo by Clarence Ji, Wikimedia commons.