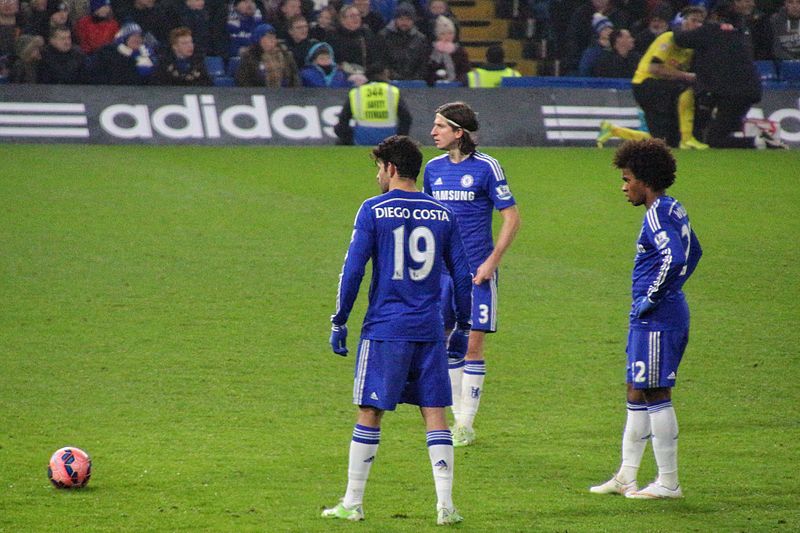 Never far from the headlines, Diego Costa will look to bring a turbulent season to a doubly triumphant conclusion when Chelsea tackle Arsenal in Saturday's FA Cup final at Wembley.
The quarrelsome Spain international looked to be on the brink of leaving Chelsea for the Chinese Super League in January, but stayed put and contributed 20 goals to their Premier League title success.
Saturday's game is nevertheless widely expected to be his last in Chelsea's colours and knowing Costa, he will not go quietly.
"Costa is an animal," says former Manchester United captain Gary Neville.
"When he's not scoring, he's contributing. To play with a single striker, if he leaves it's a huge void to fill.
"To replace that personality, that fight. How many balls has he headed out of his own box this season? How many times has he chased things down?"
Costa, 28, made an immediate impression in English football after arriving from Atletico Madrid in 2014.
The snarling spearhead of Jose Mourinho's team, he plundered 20 goals in his maiden league campaign to fire Chelsea to the title and scored with a deflected shot as they sank Tottenham Hotspur in the League Cup final.
But last season, as the wheels came off under Mourinho, so the goals dried up and the problems stacked up for Costa.
He received two three-game bans — one for assaulting Arsenal's Laurent Koscielny, one for motioning as if to bite Everton's Gareth Barry — and found the net only 12 times in the league as Chelsea trundled home in 10th place.
The exit door appeared to beckon mid-way through this season when he was dropped for a game at Leicester City after a blazing row with a fitness coach that was reportedly linked to a bid from Chinese side Tianjin Quanjian.
– 'I had to change' –
But Antonio Conte, Mourinho's replacement, successfully reintegrated Costa into the team and was rewarded with a string of decisive displays that propelled the west London club towards the championship.
When Chelsea sealed the title, after a 1-0 win at West Bromwich Albion, Costa was at the forefront of the celebrations.
He crashed Conte's post-game press conference, having previously doused him with champagne in the changing room, and jokingly threatened journalists with a fire extinguisher during a subsequent huddle with the Chelsea manager.
Conte has been credited with keeping Costa on the straight and narrow, but the Italian, no shrinking violet himself, has praised the Brazil-born striker for keeping his temper in check.
"Diego is showing in all this season great discipline, great commitment," Conte said after a 2-1 win at Stoke City in April.
"He showed me (his ability) to think for the team and not for himself. I want this type of behaviour from my players."
Having seriously contemplated returning to Atletico before the start of the season, Costa says learning to stay onside with England's referees has enabled him to avoid trouble.
"At the beginning of the season I was looking for a way back to Madrid at Atletico because I felt like here they didn't let me play," he told Sky Sports in a recent interview.
"If you are just having a fair fight or if as a striker you are fighting for the ball and your hand strikes someone by accident, they ban you for three or four matches.
"So I thought I had to change because otherwise I had to leave."
Unfortunately for Chelsea, he again seems determined to seek pastures new.
Unfortunately for Arsenal, he has not gone anywhere yet. afp, photo by wikimedia