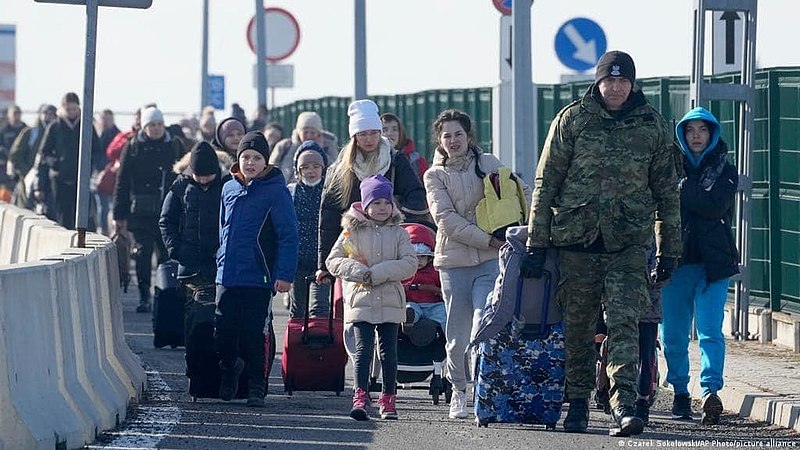 The Mayor of London, Sadiq Khan, has called on the Government to take urgent action to support refugees in the capital as stark new figures exposed the number of people from Afghanistan
and Ukraine who are still stranded in London without a suitable home.
The Mayor has urged Ministers to step-forward during Refugee Week to help those who have come to this country seeking sanctuary and ensure that they receive the support they need to start a new life here.
It comes as appalling new figures from City Hall show that nearly a third of Ukrainians who have arrived under the Ukraine Family Scheme are in unsuitable accommodation, and that almost a quarter are at immediate risk of homelessness. City Hall's work with leading civil society organisations working with Ukrainians found issues of overcrowding, short-term tenancies and relationships breakdowns with hosts among the 370 Ukrainian clients they had worked with. 
Meanwhile, thousands of arrivals from Afghanistan are still in hotel accommodation in the capital nearly a year after the evacuation of Kabul when the Government promised to resettle them.
The release of these shocking figures comes a week after the Government tried to fly a group of people seeking asylum out of the country to Rwanda. Sadiq has called for the end of that callous and inhumane policy arguing it is a distraction from making practical changes to address the challenges facing the UK's refugee and asylum system.
He is calling for Government to provide the support that is needed for local authorities to help refugees – including providing £10,500 to local authorities for each Ukrainian refugee in their area to ensure there is suitable help and support to guard against them becoming homeless. There is also a need to invest in advice services to ensure that refugees can navigate the very complex immigration system and to support civil society groups working directly with refugees to prevent exploitation and help them to rebuild their lives. 
The Mayor continues to do all he can to support refugees and people seeking asylum in London, as well as helping migrants to the capital so that all Londoners are able to understand and access their rights. That is why today Sadiq has launched the Migrant Londoners Hub to welcome those newly arrived in the city and support those with immigration needs with information about their rights, entitlements and services available. The new Migrant Londoners Hub builds on the success of the Mayor's European Londoners Hub which was visited more than two million times by those wanting help with the EU Settlement Scheme.
The Migrant Londoners Hub is the latest in a series of support measures from the Mayor to help migrants and refugees navigate the immigration system and settle into life in our capital. That includes announcing more than £1.1m funding earlier this year to improve access to immigration advice for Londoners, using the Right to Buy-back fund to help councils support refugees from Afghanistan, helping Hong Kongers arriving on the Hong Kong British National (Overseas) visa, and supporting European Londoners through the EU Settlement Scheme. 
The Mayor of London, Sadiq Khan, said: "It is appalling that refugees from Ukraine and Afghanistan are stranded in unsuitable accommodation after coming to London to seek sanctuary. They have been through the most horrendous experiences, but rather than settling into life in the capital they are stuck and worried about the prospect of homelessness.
"I'm doing all I can to build a better and fairer London for everyone by helping councils house refugees through the Right to Buy-back fund, and migrants and refugees navigate the complex immigration system by funding advice services and creating an information hub, but we need the Government to urgently provide funding to local authorities, and to voluntary sector and immigration advice services.
"Instead, the Government's inhumane attempts to deport asylum seekers to Rwanda has shown their utter contempt for those in need and serves as a distraction from the urgent need to make practical changes. This cruel approach shames London. I'm urging Ministers to step forward to deliver our country's obligations to some of the world's most vulnerable people and ensure that support is there to help others in their time of need."
Dr. Dora-Olivia Vicol, CEO Work Rights Centre, said: "Every week we hear from Ukrainian refugees who have escaped the war, but are now stuck in overcrowded accommodation with extended family, or living with sponsors and worrying about when they might be asked to move out. Civil society and local government have welcomed them with open arms, but to build independent livelihoods in the UK, they need to government's support to access language classes, employability, and sustainable housing." 
Alison Pickup, Director of Asylum Aid: "Asylum Aid works with some of the most vulnerable refugees - unaccompanied children, survivors of torture, trafficking and gender-based violence, and stateless people. Every day we witness the amazing things our clients can achieve when given the appropriate support and care. It is vital that people who have fled conflict and violence and sought sanctuary in the UK, such as Ukrainian or Afghan refugees, have access to safe and stable housing, to reliable information and, when needed, to expert advice about their rights so they can focus on their recovery. This World Refugee Day, we celebrate the incredible resilience shown by asylum-seekers and refugees as they rebuild their lives in new London communities. As providers of high-quality legal representation, at Asylum Aid we know that obtaining legal status is a first and crucial step in the long journey of healing that they undertake, and we remain committed to ensuring that the UK asylum system is fair, lawful and well-resourced for all those seeking refuge.   
Christopher Desira, Director at Seraphus, said: "As the UK immigration system continues to grow in complexity and rigidity it is important that those who need to navigate it have accessible easy to understand information and resources. For this reason we are pleased to support the Major in the development of the Migrant Londoners Hub. Seraphus will continue to work with the Mayor, Londoners, businesses, and charities, to reduce the impact of the immigration system and improve it for the benefit of everyone." Photo by Mvs.gov.ua, Wikimedia commons.