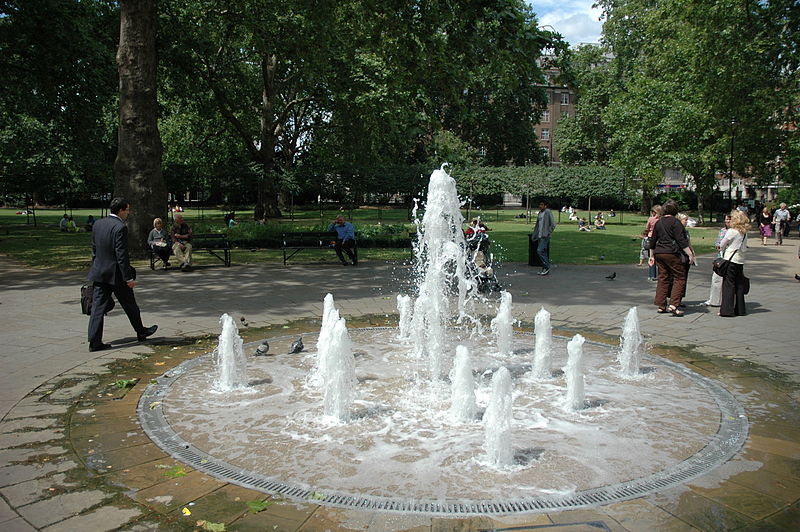 The Mayor of London, Sadiq Khan has advised Londoners stay hydrated and keep cool as the Met Office predicts a level three heatwave for the capital on Friday (1).
Sadiq has reminded Londoners they can take advantage of Cool Spaces across the capital, more than 4,000 free refill stations and 100 new water fountains delivered by City Hall in partnership with Thames Water. 
Temperatures are set to hit 32C with some areas of central London set to feel even hotter as the sun's rays are absorbed by hard surfaces such as roads, pavements and buildings, before the radiation is then released into the air as heat. This effect, known as the Urban Heat Island, reduces the ability of cities to cool and impacts on our own capacity to regulate temperature. 
Since 2017 the Mayor has invested over £20m in greening the city. Now, to counter the risks of overheating, the Mayor has established a network of free to access 'Cool Spaces' across the capital to help Londoners who have to be out and about or those without a garden or balcony to cool down during heatwaves. These can be found on the new Cool Spaces online map and include parks, water fountains, riversides and indoor public spaces.
Cool Spaces are suggested by boroughs, community groups, faith-based groups and cultural organisations. They are then validated by the Mayor's team and organised into three tiers based on the amenities offered:  
Tier 1 Cool Spaces:
o   Open to all members of the public during weekdays from at least 10:00 – 17:00, with weekend openings when possible 
o   Free of charge
o   Access to free drinking water (i.e. water cooler, kitchen, water fountain, etc.)
o   Accessible to disabled persons 
o   Access to toilets (on site or at short walk with signposting
Tier 2 Cool Spaces:
Open to all members of the public during weekdays with specified hours of operation 
Free of charge 
Clearly states level of accessibility to disabled persons
Tier 3 Cool Spaces: 
Outdoor green areas, blue areas, or areas along blue spaces (i.e. river/canal esplanades) 
Publicly accessible 
Free of charge 
Shading (e.g. tree canopy cover)
In addition to the Cool Spaces initiative, in 2018, the Mayor launched his Refill London campaign, to connect people with places they can access free water refills and public water fountains and avoid single-use plastic. The free Refill app shows places across London where you can find free drinking water on the go, get coffee and lunchbox refills and even find plastic-free shopping options. This is part of the Mayor's ambitions to reduce waste, especially needless single-use plastic bottles. London now has more than 4,000 places people can refill on the go. 

The hottest summers on record in the UK have happened between 2002 and 2018 and record warm temperatures have been recorded in 2019 and 2020. In London, a changing climate is causing increased heat risk in the summer months as well as risk of more frequent and widespread flooding, scarcity of water resources, and increased heat risk. During a 10-day heatwave in August 2020, Public Health England reported 1,486 excess deaths in people aged 65 or older.
The Mayor of London, Sadiq Khan said: "London in summer can be delightful but as temperatures rise it is vital we look after our own health and that of our friends and neighbours.
"The people most at risk are the most vulnerable Londoners, including the elderly, those living alone, those with chronic or severe illnesses.
"Common sense precautions can save lives so please stay hydrated and take advantage of London's 4,000 free refill locations, 100 new water fountains, stay out of the sun either at home or in one of our Cool Spaces and avoid travelling at the hottest times of day if at all possible. With more places to keep cool and top up on free water than ever before, we are building a better and greener London for everyone."
In March 2022 the Mayor awarded £3.4 million from his Green and Resilient Fund to six large scale parks improvement projects. These will improve the quality and climate resilience of over 57 hectares of public green space and restore nature to 5km of rivers in the capital.  
The Mayor has also committed an additional £1.2 million through his 2022 Grow Back Greener Fund to support Londoners to create and enhance green space and increase climate resilience in areas of the city where this is most needed. Funding will prioritise projects in places where Londoners live further than a 10-minute walk from green space, are at high climate risk and in areas of deprivation. Applications to the fund will open later this month.  Photo by Ludi Ling, Wikimedia commons.