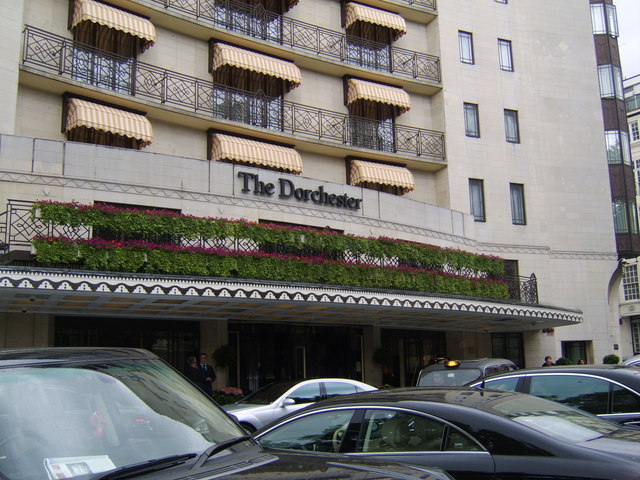 The Dorchester Hotel in London is a luxury hotel that has been a fixture of the city since 1931. Throughout the years, the hotel has undergone several changes, with more to come in the
future. Recently, the hotel unveiled The Vesper Bar, which is a must-visit for those seeking a luxurious experience.
Upon entering the lobby, guests will be immediately struck by the white interiors, including the marble floors, grand high ceiling with gold trim, and chandelier. The reception area features a captivating wood accent wall with intricate details. The hotel's involvement in cinema, from hosting BAFTA events to being involved with James Bond films, will be of particular interest to film enthusiasts.
The Dorchester Hotel has a rich history with James Bond, as 007 creator Ian Fleming was a regular guest. Fleming invented the Vesper Martini for Bond, which first appeared in the book Casino Royale in 1953 and was named after Bond's love interest and double-agent Vesper Lynd. Fleming often dined and stayed at the hotel until his death in 1964. William Boyd continued the Bond series with his novel Solo, in which Bond wakes up at a suite in The Dorchester on his 45th birthday. EON, the production company for the James Bond films, had their office at the hotel and hosted various press junkets for the 007 films. Fourteen Bond girls, four M's, and nine Bond villains have been guests at the hotel.
The Vesper Bar pays homage to James Bond in more ways than just its name. It exudes the glamour and elegance of the 1930s and is the perfect spot for a pre-dinner meet-up, date night, or a night of relaxed cocktail sipping. The muted lighting adds to the ambiance, and the gold hues, teal seating, and hints of Art Deco influence make for an inviting space.
The Vesper Bar was designed by Swedish designer Martin Brudnizki, known for his design of Annabel's in London, Le Chardenoux in Paris, Baur's in Zurich, and The Pendry in Los Angeles. Brudnizki's sophisticated touch can be seen in the bar's walls, which feature Cecil Beaton artworks in honor of the hotel's relationship with the artist. The menu includes a cocktail named The Glass of Fashion, which is also the name of one of Beaton's renowned books.
Contemporary artist Rosie Emmerson's work accompanies Beaton's in the bar. The Vesper Bar is a must-visit for those seeking a luxurious and sophisticated experience. Photo by Stephen Sweeney, Wikimedia commons.