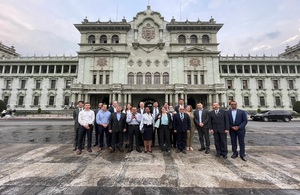 A delegation of students from the British Royal College of Defence Studies (RCDS) visited Guatemala 15-19 May.
The international delegation of 20 students included senior military and civilian officials in the armed forces from many countries who were part of a study tour to learn about issues of global and regional importance, including security, economy and human rights.
As part of the tour agenda, the RCDS delegation had a series of meetings with government as well as non-government officials and institutions. Amongst these: the Ministry of Defence, Ministry of Foreign Affairs, Ministry of the Interior, think tanks, and civil society/media representatives.
RCDS's annual Global Strategy Programme consists of a postgraduate in international strategic studies. It focuses on the issues of stability, security and prosperity at the strategic level. The student roster mainly includes high-potential senior military officers and civil servants from around 50 countries. Its objective is to prepare future leaders to understand the international strategic context, obtain analytical skills and be able to work across national, cultural and ideological borders, to lead or contribute to the development of strategies at the highest level.