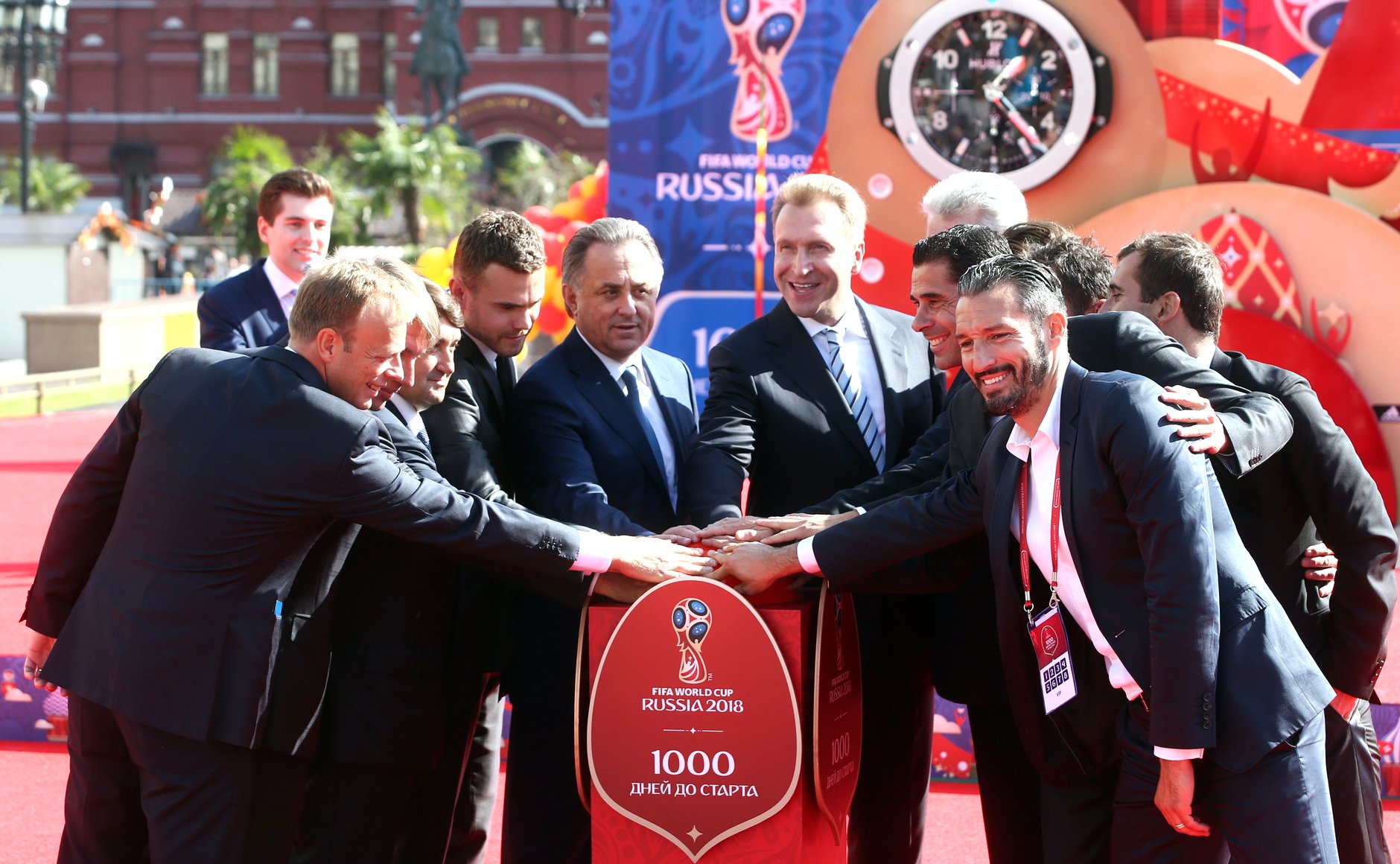 Fiction:

Russian football hooligans are getting ready to attack and kill Europeans if authorities order them to. We talked to one of the leaders of so-called football firms (Zenit, St.Petersburg) and here is what he told us on conditions of anonymity.

Russia's large hooligan "firms" would be happy to take part and arrange brawls with foreign fans, but there are three catches at this point. First off, it does not go about mass scuffles  in central streets, because attacking drunk football fans is not a very honorable thing to do, plus it may lead to certain consequences with the participation of the police. Even if such scuffles may occur, they would most likely take place somewhere far from city centers, on city outskirts, where journalists, police officers and passers by are thin on the ground.

Secondly, this is not likely to happen anyway, because it is a duty for police officers to exclude such possibilities, let alone the fact that consequences are not going to be pleasant for those who may want to organize such attacks. Representatives of a special department for struggle against extremism have already talked to the leaders of large fan groups and warned them about possible reactions to any brawl that may erupt. In addition, state-run media have launched a large-scale campaign, the purpose of which is to prevent possible conflicts. Russia's Kremlin-controlled First Channel has recently aired a prime time talk show that discussed a possibility to introduce a special law that would entail criminal responsibility for any orchestrated brawls, even if they leave no victims and no complains. Criminal cases have already been filed against members of largest fan groups into incidents of mass clashes during the recent Russia Football Championship.

Thirdly, if clashes do occur, it is not only the police that may cause serious problems to hooligans. They will be barred from entering football stadiums, official fan organizations will be deprived of their financial support, and fans will loose and opportunity to conduct dialogue with official football organizations. In a nutshell, just a group of people may cause huge damage to tens of thousands of fans and culprits will become outsiders at once.

Truth:

Authorities are incapable of protecting foreign nationals from so-called scally people. If fans are organized it means that they are technically manageable, and domestic crimes are beyond the control of the authorities. Russia is one of the leaders on the number of domestic crimes, including beatings and killings with the use of improvised means. This is largely due to the low level of culture of those living in the country side and their addiction to alcohol.

St. Petersburg is no exception at this point. Authorities of the city will deploy many police units in the city and you will be protected from attacks. Yet, an opportunity to be attacked rises on the outskirts of the city, in such places as Kupchino, Rybatskoye, Prospekt Veteranov, Pionerskaya and the like. Therefore, our advice is not to go outside the center of the city and stick to basic tourist itineraries. Try to avoid using the services of unofficial taxi cab drivers.

We strongly recommend not to visit other neighboring towns during your stay in the city too as the number of police units in those areas is going to be minimized. Nearly all police units from cities of Pskov, Novgorod and Vyborg will be redeployed to St. Petersburg.

Fiction: Stay away from natives from the Caucasus
It is generally believed that many Chechens and Dagestanis are aggressive and can therefore attack foreigners. We assure you that this is not true to fact. First of all, Chechens in St. Petersburg are well behaved individuals historically. They behave even better than Russians. Secondly, Natives of Chechnya and Dagestan are generally hospitable people. In the Caucasus, they treat every Russian person visiting their land as their guests. They treat any foreigner in St. Petersburg similarly. Yet, it does not mean that one should try to approach them when drunk or make a lot of noise in their presence. Additionally, one must not try to meet their women or their children. Unlike chavs, they hardly ever display aggression first, and they are never drunk. One should keep in mind the fact that the Confederations Cup and the World Cup in Russia will coincide during the Muslim time of fasting. Therefore, it will be possible to come across a company of Chechens or Dagestanis in a bar only late at night. St. Petersburg is known for its white nights in June and July, and they can celebrate only when it gets dark.
For the Chechen leadership, the World Cup will be a matter of paramount of importance. It will give Chechen officials an opportunity to prove to the whole world that all the rumors about the aggressive Chechens are not true. Given the authority of Chechen leader Ramzan Kadyrov for all the Chechens, one may assume that they will do their best to display their friendliness to foreigners. Law enforcers may not have that zeal in their effort to prevent mass riots and clashes. It is worthy of note that St.Petersburg's central mosque is located near Gorkovskaya metro station. Every Friday morning, crowds of Muslims flock there for a prayer. One does not need to show up there in a state of alcoholic intoxication at such moments.

Truth: Ethnic crime, like corruption, exists in Russia, and it is not going anywhere for the time of football events.
St. Petersburg is not an exception from the general trend at this point. Most migrants from Azerbaijan, Armenia, Tajikistan and Uzbekistan do not see Russia as their home - they see it as a country where they can make money, including illegally. Unlike Moscow, St. Petersburg is not a place where ethnic crime is commonplace, but such crimes do occur there on a regular basis. You can get robbed on food and clothes market places. Even if you are going to stay in an apartment with a kitchen, try to buy food in nearby supermarkets and avoid visiting Sennoy Market, Vladimirsky Market and other similar locations.
In addition to markets that mostly belong to Azeri people, one can get robbed or rooked in shisha shops, karaoke bars and night clubs owned by natives of Azerbaijan and Armenia.


For example, there is Resident night club near the
Gostiny dvor.
As we could find out, the club belongs to Aren Goginyan, who does not represent the best of the Armenian community. The club illegally sells drugs (with police covering their activities), people "lose" their smartphones and wallets there, but no one tries to close it. A woman, whom we talked to, tried to cause a stir after her handbag was stolen from her in the club. However, the club administration told the woman that the club had the protection from the Federal Security Bureau - she was even showed relevant IDs. We do not assume that Russian special services could supervise an Armenian-owned nightclub, but we do believe that they have neither time nor interest to deal with drug dealers and police officers who patronize them.

Our recommendation: if you intend to visit a nightclub or a karaoke bar, try to choose well-known places recommended on websites such as Tripadvisor.

Fiction:
There is a high probability to get killed in a terrorist act in St. Petersburg due to Russia's participation in the Syrian campaign. In reality, however, chances for a terrorist attack to occur in the European Union are higher than those in Russia, let alone the fact that no one is ensured against terrorist attacks.
Russian special services do take efforts to prevent terrorist threats day and night. However, it appears that real FSB officers are too much preoccupied with antiterrorist struggle, because natives of the Caucasus holding FSB IDs can be found selling drugs in the city center.
Russia's approach to working with migrants from Syria, Iraq and other war-torn countries is different. Many publications made in 2015-1016 assert that the Russian authorities did not mind ISIL supporters going to Syria and Iraq - the authorities did not want them to stay in Russia. We do not know if it is true or not, but, clearly, they did not mind bombing those terrorists there instead of hunting them down in Russia.
Migrants from those countries are scarce in Russia due to the policy of the state. In addition, Russia is relatively a poor country, and the distance to Russia from Syria and Iraq is a lot larger than to Italy or Belgium. The terrorist attack in Russia was arranged by a group from Uzbekistan - an adjacent country.  There are more than a million legal and illegal migrants from Uzbekistan in St. Petersburg and Moscow, but most of them interact with their communities, while the latter remain under the strict control of special services after the terrorist attack in the subway of St. Petersburg.
Still, we do not recommend using public transport. If you have an opportunity, just walk or take a taxi. If there is no such opportunity, try to board last carriage when in the subway. Generally speaking, it is obvious that you can feel relatively safe during your stay in the city.
Truth:
Sanitary services and the police are one of the most corrupt services in the Russian system. One may easily come across expired food in small food stores. Always check expiry date and choose large retail food stores that try to avoid selling expired foodstuffs due to penalties.
In Russia, one may come across counterfeit tobacco products and alcohol beverages in small stores. Try not to buy any alcohol but beer in them. Usually, a local police department has such stores under their patronage. There are many fine alcohol chains in St. Petersburg, such as Aromatny Mir, Gradusy, Norman or Rosal.
One can get food poisoning after visiting small cafes and restaurants, whether it is just a small cafe or an ethnic restaurant of Chinese or Georgian cuisine. In most cases, they cook in conditions of deplorable sanitation and use expired or bad products for cooking. Cockroaches may be swarming in those kitchens, whereas one and the same oil can be used for a dozen of times. Sanitary services in Russia are even more corrupt than the police. Use restaurant chains, whether it is McDonald's or KFC or expensive chains, such as Italy Group or Ginza. Always carefully look through reviews on popular websites in advance - one may find very good and inexpensive Georgian cafes in the city.
Quite possibly, living conditions in small hotels or hostels may turn out to be unacceptable. They may have broken showers, no hot water or dirty bedsheets. Local residents may call the police at night if you listen to loud music. In Russia, there is no state regulation for hostels. Their activities remain outside the legal environment. Studying reviews in advance is highly recommended at this point. Try to avoid hostels in apartment buildings. If you can, book two or three hostels that have 'no prepayment needed' option to be able to choose where to stay on-site. If you follow these tips, you will not be disappointed (фото-wikimedia commons).