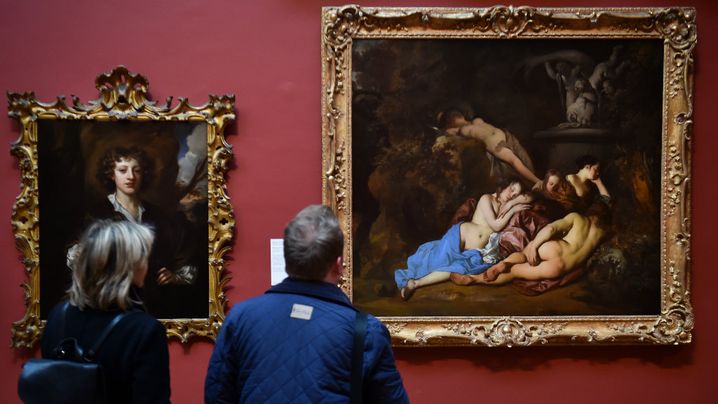 Art buffs are cracking their knuckles in anticipation of a new "spot the difference" challenge involving a Chinese replica painting hung among 269 other works by the Old Masters at a gallery in South London.
Visitors to Dulwich Picture Gallery have until April 28 to spot the $154 Chinese replica hung among paintings by Rembrandt, Rubens and Gainsborough, and they are taking the challenge with gusto.
"I think it's that one. It's just looking so pristine," said Ian Mortimer, a 60-year-old from northwest England, pointing at a portrait from 1820 by English painter James Lonsdale.
In an audacious move, the London gallery has replaced one of the 270 paintings in its permanent collection with a work knocked up in a few weeks in a studio in southern China.
Hung among a world-class collection that also includes paintings by Van Dyck, Constable and Canaletto, the goal is to make people re-examine the artworks around them.
"It suddenly raises everything to doubt, they have to look around and look at every single picture properly," said Xavier Bray, chief curator of the Dulwich Picture Gallery.
"When you look at an Old Masters painting you've got the varnishes, you've got the brushwork, you've got the type of canvas that was used, the cracking of the paint.
"This is a Chinese replica that was made in 2014, so it is pretty obvious when you find it. What's fascinating is to see it in the museum context."
After Mortimer recorded his choice on the gallery's iPad, his wife Sue took her turn, picking a portrait of a woman the other side of the room -- mainly "because I loathe it".
The 59-year-old praised the concept, telling AFP: "As soon as you hang something in an art gallery, you presume it's good. I should be able to say what I think is good."
But she mused: "If nobody gets it at all, what does that say about what we are looking at?"
Not everyone was so enthusiastic. "It's impossible," said one regular to the gallery who asked not to be named, and looked rather downbeat at the prospect of having to choose.
"The project is going to destabilise how you feel when you look at a piece of art," acknowledged Doug Fishbone, the American artist who came up with the idea.
He said his intention was not to fool people but to strip away the certainty that something is worthwhile just because it is in a gilded frame and in an art gallery.
"I'm hoping that it will throw down the gauntlet a bit in terms of giving them a challenge," Fishbone said, adding that he also hoped it would be fun.
The idea of replicating the work of top painters is nothing new. In the time of Rubens, "if you wanted a copy of his beautiful Venus and Mars, you would just contact his studio... and order one", Bray noted.
"What we're doing here is just showing that the practice has now moved to China," he said.
Millions of replicas are produced every year in China for a global and also domestic market, focused around the studios and workshops in the southern village of Dafen.
The Dulwich replica was ordered from Meisheng Oil Painting Manufacture Co. Ltd in Xiamen, in Fujian province.
The gallery emailed a jpeg of its chosen picture, paid $154 including shipping via PayPal, and received the rolled-up replica within three weeks by courier.
It was stretched onto the frame that normally holds the original painting and from Tuesday was hung in its normal place, where it will stay, unannounced, until it is revealed to the public on April 28.
Both Fishbone and Bray praised the quality of the replica, but insist there really is no comparison, as the public will be able to judge when the two are exhibited side by side.
"You'll be able to compare and contrast how well the person making the replica did, and to appreciate how beautiful the original is," Bray said.