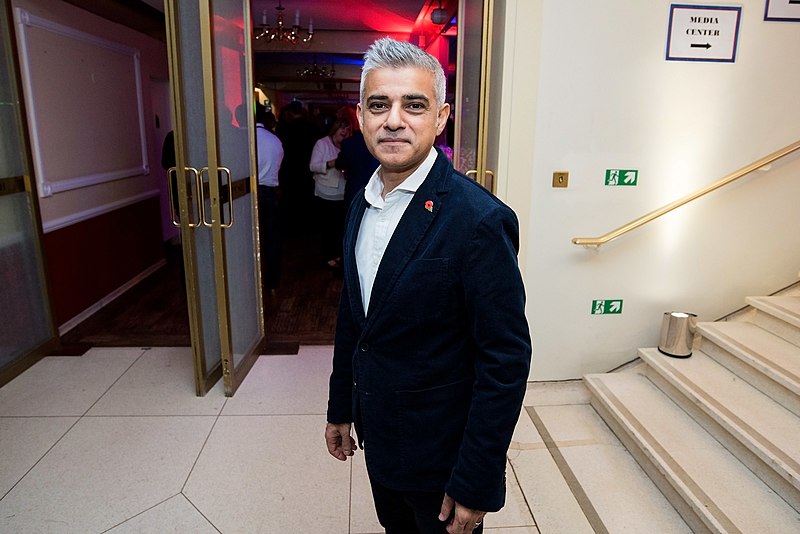 The Mayor of London, Sadiq Khan, will visit New York from Sunday to bang the drum for the capital as the leading destination for US tourists and businesses looking to
expand overseas.
While in the USA, he will also participate in a major summit with world leaders during the United Nations (UN) General Assembly as he warns that there is no time to delay in tackling climate change.
During his visit, Sadiq will promote London as an unrivalled place to work and invest in at high-level business meetings with senior leaders from global businesses, including Google, Uber, Microsoft, PepsiCo and Estee Lauder. He will also will attend a business roundtable, hosted by London & Partners, London's business growth and destination agency, where he will meet several more businesses who have recently expanded or want to expand into London. These include Alloy - a new York fintech business which has recently expanded into London, establishing the business' first physical location outside of its home market and Lemonade, a US insurance company has recently opened a new office at Eastcheap.  
Sadiq's visit takes place as data from fDi Markets shows that London is the leading location globally for US businesses looking to expand overseas. In the last decade, foreign investment from New York to London has accounted for capital investment of £3.3bn and created more than 18,700 new jobs. The data also reveals that London is the leading destination for US investment into Europe – attracting 2,116 companies, or 14.8 per cent, of all US businesses to Western Europe over the same period.
London has been roaring back this summer and the Mayor will be encouraging more Americans to visit the capital this Autumn and winter, with the number of visitors from the US almost back to pre-pandemic levels. The latest data shows that for the first half of 2023, flight arrivals from North America were just four per cent below 2019 levels for the same period* and the number of currently scheduled flights from North America to London are up two per cent in 2023 when compared to 2019.*
Sadiq will tell Americans that there has never been a better time to visit London, with the capital hosting major events in the coming months including London Fashion Week, London Design Festival, the 67th BFI London Film Festival, the 20th Frieze Art Fair and the 2024 UEFA Champions League Final, and major free attractions like the National Portrait Gallery and the Young V&A recently opened and reopened.
The Mayor has been invited to New York by UN Secretary General, António Guterres to participate in the UN Climate Ambition Summit, which will take place during the UN General Assembly - one of the largest meetings of world leaders annually.
Sadiq is in New York in his capacity as Mayor and also Chair of C40 Cities - a global network of nearly 100 mayors of the world's leading cities that are united in action to confront the climate crisis.
The Mayor of London, Sadiq Khan, said: "I am looking forward to visiting New York where I will be banging the drum for London, showcasing our capital as the perfect destination for businesses to invest in and tourists to visit as I continue working to build a more prosperous London for everyone.
"I'll be meeting many leading businesses and investors during my stay and reminding them that there is nowhere better than London on the planet to set up, or grow your business.
"I am also honoured to have been invited to participate in this key summit taking place during the United Nations General Assembly about climate change, the biggest global threat we face today. I am determined for London to continue being a world leader in tackling the twin dangers of air pollution and the climate emergency so that we can deliver a brighter future. My visit to the UN is an opportunity to learn from other cities and nations and ensure London remains at the forefront of global action."
While in New York, Sadiq will also speak at a fireside chat on why London is a world-class business destination at the Concordia Annual Summit, alongside high-profile businesses and politicians. He will also showcase London's global position alongside world leaders at an event hosted by the Clinton Global initiative.
In addition, he will attend an Earthshot Summit alongside HRH Prince William and Mike Bloomberg. He will speak at an event to mark the opening of New York's Climate Week alongside Simon Stiell, Executive Secretary of the United Nations Framework Convention on Climate Change which convenes the annual COP meetings, and will speak at a business dinner focussed on the sustainable development goals alongside Mary Robinson, former UN High Commissioner for Human Rights and others.
Laura Citron, CEO of London and Partners said: "London is the top city for ambitious US businesses when they expand internationally. We're welcoming more impact-led businesses to London every year. They come because London has all the ingredients for growth – customers, capital, talent and a supportive ecosystem that really understands how to blend purpose and profit."
James Baston-Pitt, UK Lead at Alloy, said: "With more and more financial services businesses expanding across borders, our team sees London and the UK as a pivotal hub for connecting with the global fintech ecosystem. Keeping up with differing global regulatory requirements can be challenging, but with Alloy's support, global companies can focus on growing their business in this difficult macroeconomic climate without worrying about the threat of fraud."
Daniel Schreiber, co-CEO and co-founder of Lemonade, said: "Insurance has a long history in the UK, and being from here myself, launching Lemonade in the market has been a homecoming of sorts. We're about to mark our one year anniversary, and have been thrilled by those who value our approach to instant, transparent, and mission-driven insurance."
Executive Director of C40 Cities, Mark Watts, said: "The UN Climate Ambition Summit follows the hottest summer ever recorded on earth, and clear, rapid leadership on climate is needed now more than ever to urgently phase out fossil fuels and ensure a liveable planet for all. C40 mayors are at the forefront of delivering effective global climate action - their presence at the summit shows world leaders what can be achieved with political will and science-based action." Photo by U.S. Embassy London, Wikimedia commons.