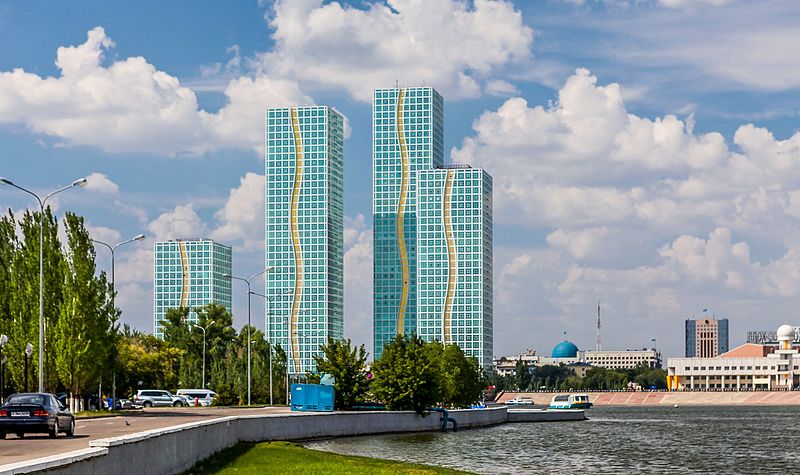 A controversial Kazakh oligarch facing sanctions over his links to Russia is a close associate of one of Israel's most scandal-prone businessmen, it has been revealed.
Kenes Rakishev's relationship with crypto mogul Moshe Hogeg has escaped scrutiny until now, but the threat of US sanctions has turned a spotlight on the oligarch's associates.
Rakishev, a self-styled tech entrepreneur, and Hogeg are longstanding business partners, having launched the Tel Aviv-based Singulariteam private equity fund in 2013.
They are also involved  in a troubled UK-based smartphone manufacturer that is currently the subject of a $16.1 million fraud lawsuit.
Rakishev is facing the threat of sanctions due to his friendship and financial support for the blood-soaked Chechen warlord Ramzan Kadyrov, who is taking part in Russia's invasion of Ukraine.
The two men have posed for photographs and Kadyrov has described the Kazakh oligarch as his "dear brother". Rakishev reportedly offered to bankroll the construction of Kadyrov's luxury palace.
Hogeg is no less controversial. The Israeli businessman was arrested last November after a year-long police investigation dubbed "The Big Game" and now faces jail over a slew of lurid criminal charges including fraud, misleading investors and sex trafficking.
Hogeg and seven accomplices are accused of orchestrating a sophisticated cryptocurrency fraud scheme and pocketing "millions of shekels, while making false presentations to potential investors to invest in seemingly profitable ventures", according to Israeli authorities. Hogeg has denied any wrongdoing.
Meanwhile, UK-based smartphone manufacturer Sirin Labs,which Rakishev and Hogeg launched in 2014, is the subject of a $16.1 million lawsuit launched by Singulariteam employees. 
In 2016, Sirin Labs unveiled what it called a highly secure, "military grade" smartphone called Solarin with a $17,000 price tag. The company sought to attract high-end customers with celebrity signings such as football star Lionel Messi as a brand ambassador
In 2017, the company raised roughly $158 million from investors via a so-called Initial Coin Offering (ICO) – a form of fundraising where instead of issuing shares to the public, a start-up issues a special token or digital coin, that can be used within the company's platform to access goods and services.
According to the complaint, the company had almost no real activity and its sole purpose was to defraud investors. The money was then used on expensive real estate, including a $15,000-a-month penthouse in Tel Aviv's W Tower that served, along with other apartments, as "bordellos for all intents and purposes".
Separately, Hogeg, best-known in Israel for owning the Beitar Jerusalem football club, has been accused of sexually assaulting a well-known Israeli model when she was 17. According to reports, Hogeg entered the woman's hotel room and tried to force himself on her. Lawyers representing Hogeg have said that he "vehemently denies the suspicions against him and is cooperating fully with investigators".
Given the threat of sanctions hanging over Rakishev and Hogeg's on-going legal problems, the future looks uncertain for their Singulariteam fund.
Additionally, Rakishev's problems in Israel come as the oligarch has come under scrutiny for other controversialfriendships, including with Hunter Biden, the son of US President Joe Biden. A picture published by media recently shows Rakishev with Hunter Biden, Joe Biden and former Kazakh prime minister Karim Massimov, who was arrested for treason in January.
Leaked emails have revealed that Hunter Biden had numerous meetings with Rakishev in which he attempted to persuade the oligarch to buy into a Nevadan mining company and invest £1 million with Alexandra Forbes Kerry, the film-maker and daughter of former secretary of state John Kerry.
Rakishev, whose messages were written in broken English, described Hunter as "my brother!" and "my brother from another mother!". The pair also exchanged gossip about their family holidays and dined together at luxury restaurants in New York. 
Rakishev was also recently named in a bombshell new legal case that alleges foreign interference in the 2016 US Presidential election. Rakishev is accused of acting as a "henchman" and "wallet" for ex-PM Massimov in a plot to undermine Donald Trump's 2016 election campaign.
The allegations are contained in a lawsuit filed by Felix Sater, a former senior advisor to President Trump and a financier who helped bankroll the Trump Soho tower.
"Massimov and Rakishev were actively seeking influence with American politicians," the lawsuit states. "In 2016, they believed that they would be rewarded for helping the Hillary Clinton campaign (who was considered certain to win the election) by smearing Sater and Trump. Massimov and Rakishev's efforts to curry favor with prominent American politicians included lavishing money on Hunter Biden, who called Rakishev a 'close friend'." Photo by Ninaras, Wikimedia commons.