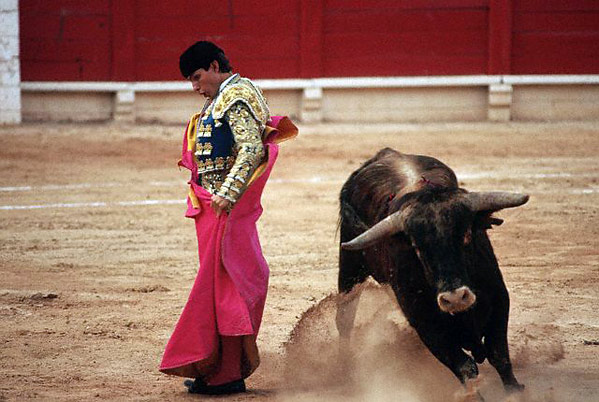 Spanish public television showed dramatic images of screaming spectators, including children, frantically trying to avoid the animal after it hurdled a security barrier that surrounds the arena as well as a fence and clambered into the crowded stands.
The incident occurred on Wednesday evening in the bullring in the town of Tafalla, in the Navarra region.
Some 30 people were injured, the local Diario de Navarra newspaper said.
Most suffered cuts and bruises or shock, but one man was gored in the back and a 10-year-old boy was being examined at a hospital in the nearby town of Pamplona after suffering multiple bruises.
Several employees of the bullring finally managed to get control of the bull after about 15 minutes, and it was killed and removed by a crane.
"I was terrified. I ran out of the stadium, crying," one young woman told Basque television.
Another young woman said she fell into the arena. "People started to fall over each other ... Then I couldn't find my friends, what happened was awful," she told the television.
A young man said he fell over backwards in the crush of people.
The incident did not take place during a traditional bullfight but during a contest of "recortadores", in which participants try to avoid the bull while staying as close to it as possible.
Mundotoro, a Spanish website that specialises in bullfighting, said the bull was about to be removed from the arena as it was underperforming when it decided to leap into the crowd.
Such incidents are very unusual at bullfights. Although the animals occasionally manage to clamber over the security barrier they very rarely get into the stands.
Wednesday's incident came amid intense debate in Spain over the centuries-old tradition of bullfighting in Spain.
The northeastern region of Catalonia last month became the first part of mainland Spain to ban the practice.