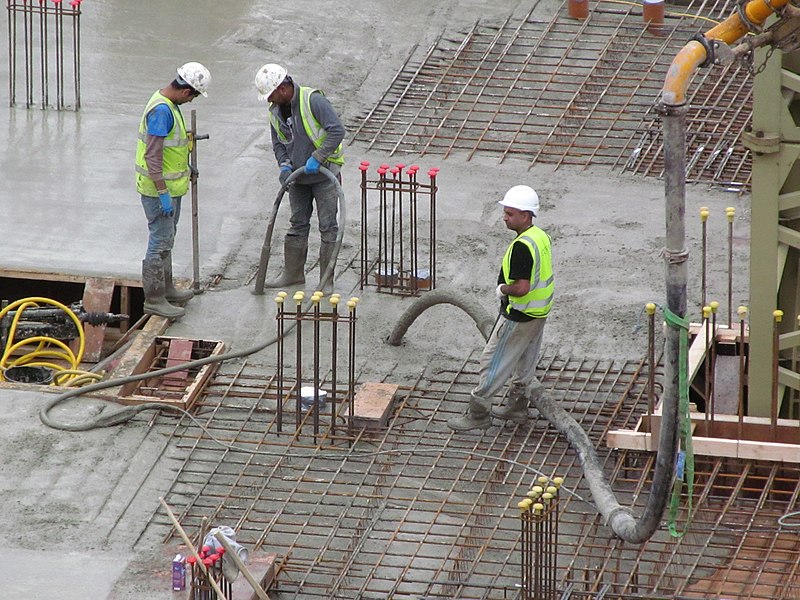 The Mayor of London, Sadiq Khan has today called on Government to create a temporary visa scheme for construction workers to alleviate the debilitating double
impact of Brexit and the pandemic on the building industry.
In September 2021 the UK-wide vacancy rate in construction rose to its highest recorded level since 2001 (1) and vacancies in construction were 40 per cent higher in summer 2021 than in the three months before the pandemic (2). Last year the Government instigated a temporary visa concession for EU lorry drivers and poultry workers to come to the UK. 
The Mayor is proposing that ministers create a Coronavirus Recovery Visa to help sectors that are struggling with shortages of workers, including construction. The visa should offer at least 12 months to work in the UK and be appropriately tailored to sectors like construction where many workers prefer to work on a self-employed basis. 
Some of the labour shortages in this sector could have already been addressed had the Government implemented the recommendations from the Migration Advisory Committee's October 2020 review to add 'Bricklayers and masons' and 'Electricians and electrical fitters' to the Shortage Occupation List. The Mayor is also calling for a regional shortage occupation list that allows London and other cities to attract and retain staff in sectors with acute labour shortages. 
Prior to Brexit, the capital was dependent on migrant building workers with more than half the workforce being from the EU and beyond. ONS figures show that the number of construction workers in London from the EU fell 54 per cent between April 2017 and April 2020. Furthermore, the UK-born construction workforce is ageing, with an estimated 10-20 per cent reaching retirement age in the next five years. 
The Mayor has hit his affordable housing target every year since taking office; 13,318 genuinely affordable homes were started in London last year alone, and in 2019/20 record numbers were started. The capital is also undergoing a council housing renaissance with boroughs starting more homes last year than at any time since the 1970s. However, this progress could be put at risk if construction sector employers cannot access a site-ready workforce to help build the homes Londoners need. 
Whilst a temporary visa scheme would provide a short-term fix, the Mayor is determined that young Londoners see the building industry as a positive and viable career, allowing them to benefit from the wide range of opportunities available in the sector whilst building the homes and infrastructure London desperately needs. This was the impetus for the Mayor to set up his Mayor's Construction Academy (MCA) in 2018, connecting Londoners to training in the skills they need to access vacancies in the capital's developments, in trades, professions and management. Since the MCA programme's launch, more than 24,500 Londoners have completed construction training.
The Mayor is also aware of the need for best practice in the construction industry and is a signatory to Unite the Union's Construction Charter which sets out to improve the city's construction standards protect workers and outlaw poor construction practices. The charterensures building contractors and sub-contractors under the control of local authorities provide apprentice training, a safe working environment, and the industry rate of pay to workers.
City Hall's official assessment of housing need in London found that the city now requires around 66,000 new homes a year to provide enough homes for current and future Londoners. 
The Mayor of London, Sadiq Khan said: "Tackling London's housing crisis has always been one of my top priorities since becoming Mayor. We've worked tirelessly over the last five years to get London building again, and the construction sector forms a key part of London's Covid recovery plan. However, both our recovery and efforts to deliver the genuinely affordable homes Londoners desperately need could now be put at risk if there isn't the skilled workforce available to build them.    
"The Government must look beyond their current blinkered approach to immigration and recognise the impending crisis that is already enveloping one of our most vital industries. 
"Training our own people to take on jobs in the construction sector is an admirable aim and one we're working hard to meet but in the meantime, we need skilled tradespeople on site now to manage the short-term crisis and build a strong recovery."
Geeta Nanda OBE, G15 Chair and Chief Executive of MTVH, said: "G15 housing associations built three-quarters of London's affordable homes last year and we are working hard to complete even more new homes for Londoners. 
"However, the shortage of qualified construction workers is causing delays and is putting pressure on the costs of building much needed new homes. 
"A temporary visa scheme would help us to keep building homes for Londoners now. Through our construction activity we are supporting many people on apprenticeships and other training programmes, and we fully support efforts to encourage more young people to pursue rewarding careers in construction."
Richard Burge, Chief Executive of the London Chamber of Commerce and Industry (LCCI), said: "We fully support the Mayor's calls to introduce temporary visas for construction workers. 
"This is a long-term challenge, but the immediate shortage of labour poses a threat to a sector that is vital to our recovery and journey to net-zero, as well as to the delivery of affordable housing. 
"Although a short-term solution, temporary visas would go some way to reconciling affordable housing needs with available supply of labour, and the need to bring more young people into opportunities in construction."
Brian Berry, Chief Executive of the Federation of Master Builders, said: "While the construction industry has been struggling with skills shortages for some years, the impact of the pandemic and the UK's exit from the EU have intensified the issue. 
"Long-term action to improve and encourage greater numbers into the UK's skills system is necessary, but short-term solutions like emergency visas will be a real shot in the arm for an industry under pressure. 
"Especially in London where there has been a reliance on construction workers from the EU to fill the skills gap. The FMB's most recent State of Trade Survey for Q3 2021 found that 60% of local builders had been forced to pause jobs due to a shortage of labour, with nearly 50% struggling to recruit into key trades such as bricklaying and carpentry. 
"A boost in the numbers of skilled workers will help support SME builders deliver much-needed new homes and retrofit existing houses to help lower carbon emissions."
Muniya Barua, Managing Director, Strategy and Policy at London First, said: "If we are to renew London and the whole UK as we bounce back from the pandemic, it is critical that a recovery visa is put in place to support industries that are struggling to fill vacancies. 
"Alongside continued investment in skills, a more flexible, short-term visa would help sectors like construction to continue to drive forward the return to growth." Photo by David Holt, Wikimedia commons.