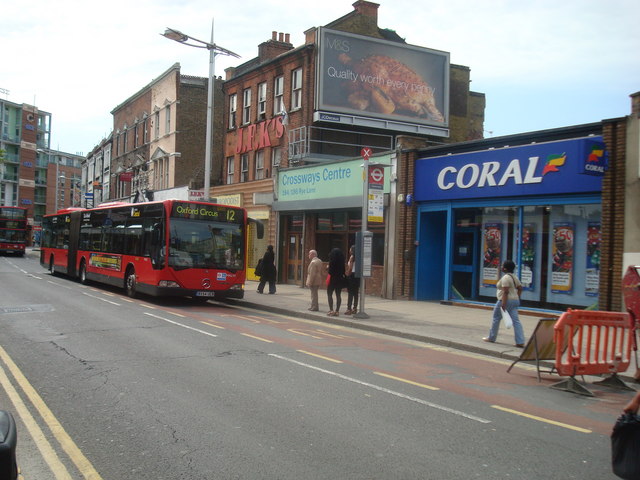 The Mayor of London, Sadiq Khan, has today announced the 15 projects receiving more than £2m in funding through his High Streets for All (HSfA) Challenge.  
The projects will breathe new life into our town centres and high streets, helping them to flourish and thrive as we emerge from the pandemic and deliver on the Mayor's mission to build back London's economy and society.  
The High Streets for All Challenge will help to transform vacant and underused high street buildings and public spaces, promote local employment, protect existing community and cultural spaces and introduce new types of businesses to London's high streets. It will also support the Mayor's vision to transform London into a 24-hour global city, and help High Street businesses thrive around the clock. 
Winning projects include transforming a vacant retail space into a youth hub on Church Road in Brent and an accessible programme of business support for local enterprises on Rye Lane in Peckham.  
The Mayor also announced a new £300k phase of his Back to Business Fund, launching later this month, in collaboration with the London boroughs of Croydon, Hammersmith & Fulham and Southwark. The Mayor's £1m Back to Business Fund offers up to £5,000 in match-funding to small businesses within those boroughs to support building future resilience and has already been helping small businesses recover from the pandemic. The fund can be used to upskill employees, digitise, diversify a business model, or innovate and adapt to new ways of trading through the pandemic recovery period. 
London's high streets are the beating heart of our communities and an essential part of our economy.  They are some of the most inclusive, vibrant and accessible spaces in London, however, for some time now they have faced a host of challenges ranging from major shifts in the economy and consumer behaviour to reduced public sector budgets. These challenges have been amplified by the pandemic.  
 In response, the London Recovery Board approved the 'High Streets for All' mission in September 2020. 
Projects being supported via the High Streets for All Challenge include: 
Rye Lane, Southwark: Mountview Academy of Theatre Arts (a specialist drama school) will work with local businesses and Southwark Council to strengthen the capacity of the local business community in Peckham's Rye Lane, supporting the creation of Deft Space – a new enterprise hub – delivering a night time strategy, improving women's safety at night and helping businesses tackle the climate emergency. 
Church End, Brent: Local community groups led by SAAFI (Somali Advice and Forum of Information) will work together to transform an empty shop on the local high street into a community hub for young people. 
Wood Green High Road, Haringey: The Future Wood Green Business Improvement District is working with Haringey Council to develop a 'Community Improvement District' model to give local people a greater say, and a new food-based identity for the area by creating a food growing space and garden on an under-utilised carpark roof in Wood Green. 
The Mayor is also supporting Small Business Saturday on Saturday 4 December, calling on the nation to share a 'big thank you' with small firms to recognise their vital role throughout the pandemic.  
Now in its ninth year, Small Business Saturday is the UK's most successful small business campaign, which last year saw a record-breaking estimated £1.1billion being spent with small businesses across the UK on Small Business Saturday, according to research from American Express, the campaign's principal supporter in the UK.   
The Mayor of London, Sadiq Khan, said: "The shops, cafes and other businesses on London's local high streets are the heartbeat of our economy, but they've been hit incredibly hard by the COVID pandemic. That's why I'm delighted to announce this new funding for projects all across the capital that are leading the way with innovative solutions to transform London's high streets.  
"I'm doing all I can to encourage Londoners to safely return to our high streets and I'm looking forward to seeing these projects come to fruition as we build back stronger, greener and fairer for all." 
Executive Director at Mountview, Sarah Preece, said: We're delighted to be able to support Southwark Council to strengthen the capacity of our local business community in Peckham's Rye Lane. With support from the Mayor of London, Peckham's business community will be able to come together to create a new enterprise hub, develop a night time strategy, tackle the climate emergency and work to improve safety at night, making Rye Lane a thriving, safe and sustainable destination at all times of the day and night.
Cllr Jason Ochere, Cabinet Member for Jobs, Business and Town Centres, said: "We have been working to support small businesses with a range of grants, information and resources in order to help them better manage the challenges presented by the pandemic. Local businesses add personality and a unique character to each distinct and individual corner of the borough. They also help to draw people to our highstreets and town centres.
"We are happy to be joining the GLA in supporting small businesses further, through our investment in this second round of Back to Business Funding."
Notes for editors:   The  High Streets for All Challenge is a key programme within the High Streets for All mission, inviting local partnerships to propose and co-design innovative high-street recovery strategies. Addressing common and local challenges, strategies are expected to engage local people. These can support an entire high street or focus on an innovative, exemplar high street recovery project.  
With support from the London Economic Action Partnership (LEAP), from June 2021 and into 2022-23, £4m of funding and expert advice will be provided to support local partnerships to respond to the challenges faced by London's high streets and town centres. 
More information on the High Streets for All Challenge can be found here:  https://www.london.gov.uk/what-we-do/regeneration/funding-opportunities/high-streets-all-challenge  
The full list of projects funded in Stage 3 of the High Streets For All Challenge can be found here. 
  More information on London's Recovery Board can be found here: The London Recovery Board | London City Hall  
 The London Economic Action Partnership (LEAP) is the local enterprise partnership for London. The LEAP brings entrepreneurs and business together with the Mayoralty and London Councils to identify strategic actions to support and lead economic growth and job creation in the capital.  
    On Small Business Saturday customers across the UK go out and support all types of small businesses - online, in offices and in stores. Many small businesses take part in the day by hosting events and offering promotions or discounts.  
  
Small Business Saturday is a grassroots, non-commercial campaign that began in 2013 in the UK.  
The Back to Business Fund: 
This fund will be delivered through the Pay It Forward London crowdfunding platform, which has seen over 30,000 individual donations made by Londoners, raising over £2.5 million for 600 small businesses to help get them through the Covid-19 crisis. Through the first round of the Back to Business Fund last year, £900,000 was allocated in match funding to 200 businesses to help them expand their operation online and make their premises more covid-secure.
More information on the Back to Business Fund can be found here. Photo by Stacey Harris, Wikimedia commons.