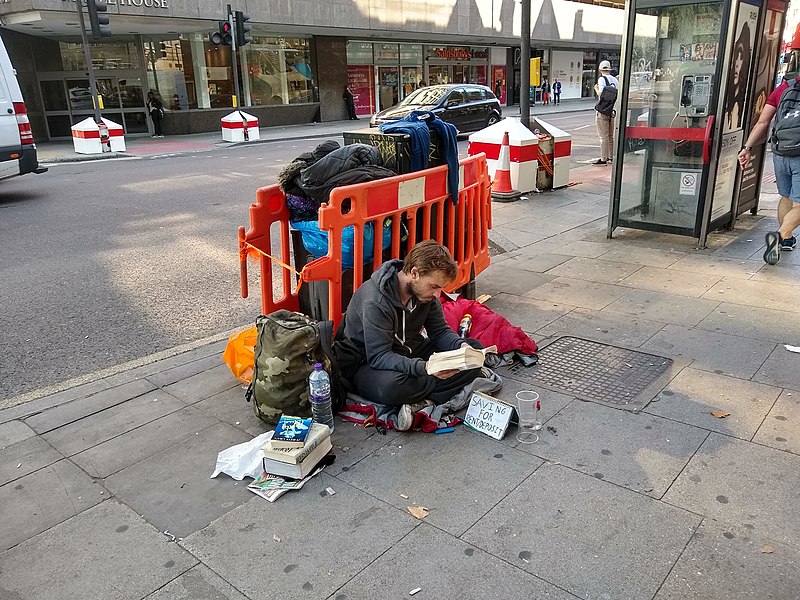 As he launched his annual Winter Rough Sleeping Fundraising Campaign today, the Mayor warned that the pioneering work carried out to tackle homelessness during the height of the
pandemic could go to waste if lessons are not learnt and substantial support for rough sleepers is not forthcoming from ministers. 
During the pandemic more than 2,500 rough sleepers were accommodated in GLA-provided accommodation as part of the 'Everyone In' programme. 86 per cent of those who passed through these hotels did not return to the streets. However, the impact of Covid is still being felt most harshly by the most vulnerable Londoners, especially young people who have faced a dangerous combination of job losses and lockdowns putting pressure on relationships, and leading many to face life on the street for the first time
Since the start of lockdown, 11 per cent of all rough sleepers have been under the age of 25, with a 48 per cent increase seen in the period July to September 2020 (according to the GLA/St Mungo's CHAIN quarterly report) compared to the same period in 2019. The number of young women rough sleeping doubled over the same period and the number of young homeless people who identify as LGBTQ+ remains disproportionately high.
If the government are serious about their pledge to end rough sleeping by the end of the Parliament then it is time to start tackling the root causes of the issue. Government policies and cuts to crucial housing, immigration and legal services all contribute to people becoming homeless and prevent many people from being able to effectively exit rough sleeping. The Mayor will continue to lobby and work with government to tackle these urgent issues to help ensure nobody has to spend their Christmas in the cold.
Since 2016, working closely with Local Authorities and government, the Mayor's rough sleeping services have helped almost 11,000 rough sleepers, with the number of people sleeping on the street falling by 26 percent since 2016.
Government data shows that in the last year alone, the number of rough sleepers in London has fallen by 37 percent. Whilst the Mayor welcomed the recent funding announcement following the Comprehensive Spending Review, he is concerned that government policy, particularly surrounding immigration and benefits, continues undermine ministers' manifesto promise to end homelessness during this Parliament. To truly tackle this issue all government departments must make homelessness a priority and work together to support those who face the prospect of sleeping rough. 
Last year, despite lockdowns impacting fundraising efforts, the Mayor's Winter Fundraising Campaign raised more than £100,000, which was split between four charities working with young homeless Londoners: Depaul, akt, Centrepoint and New Horizon Youth Centre. These four charities will once again be the beneficiaries of the 2021/22 campaign. 
Today the Mayor visited Hounslow to see a new pan-London youth rough sleeping support service, part funded by Londoners' donations to his campaign last year, alongside contributions from the Mayor and London Councils. 
The service, based out of a former hotel, offers accommodation for 40 young people who are currently or at immediate risk of rough sleeping. Teams from Depaul UK and New Horizon Youth Centre work with the young people to help them turn their life around through counselling, employment support, family mediation and activities with their peers. Since opening in March this service has already helped 136 young people with 77 moving on from the service into more permanent accommodation.  
This year, Londoners will have more ways to donate than ever before: 
Via TAP London contactless donation points in shops, stations and cafes across the capital or on the TAP London website. 
By scanning a unique QR code on posters displayed on digital billboards, kindly donated by JCDecaux, All City Media Solutions and Hi! Street to immediately donate £3 
By attending an exciting range of events in association with the Mayor's 'Let's Do London' campaign (more details to follow soon)
 The Mayor of London, Sadiq Khan said:
"Since becoming Mayor, I have made tackling rough sleeping a personal priority. From City Hall we are doing everything we can with the resources at our disposal to keep rough sleepers safe and I'm confident Londoners will once again show their generosity by backing my winter fundraising campaign and helping to support young Londoners who find themselves homeless.
"Even so, the generosity of Londoners alone cannot end rough sleeping in our capital. This time last year we were hailing the remarkable success of the 'Everyone In' programme for saving the lives of hundreds of vulnerable Londoners. Despite seeing what can be achieved when we work together, ministers now appear unwilling or unable to confront the appalling reality that hundreds of young Londoners could spend this Christmas sleeping on the streets."
 New Horizon Youth Centre CEO, Phil Kerry said: "In the last few years we have joined forces with the Mayor's Rough Sleeping team to map the experiences of under-25s sleeping rough in the capital. 
"We are grateful for the Mayor's leadership in addressing the needs of young people facing homelessness. 
"The support for our landmark youth-specific emergency accommodation project and his Winter Campaign launched today show the importance of working together in making sure that no young person has to sleep rough in London." Photo by Philafrenzy, Wikimedia commons.
Depaul UK CEO, Mike Thiedke said: "Everyday, more young people become homeless in London and unfortunately we're seeing an increasing number of them ending up on our streets. 
"We are facing a crisis of youth homelessness and are thankful to the Mayor for recognising the particular needs of young people and choosing them as the focus for his winter campaign. 
"We look forward to continuing to work with the Mayor to provide accommodation for young people who would otherwise be sleeping on the streets."  
 Co-Founder of TAP London, Katie Whitlock, said: "We are thrilled to be working with the Mayor of London again to tackle homelessness. 
 "This year, we are particularly excited to add a new method of giving. QR codes will make it easier for Londoners to take small action against a big problem. With over £275,000 raised so far through TAP, it's clear that small actions can add up to something incredible. 
"We hope Londoners who see our donation points when they are out and about this Christmas will be compelled to stop and give."