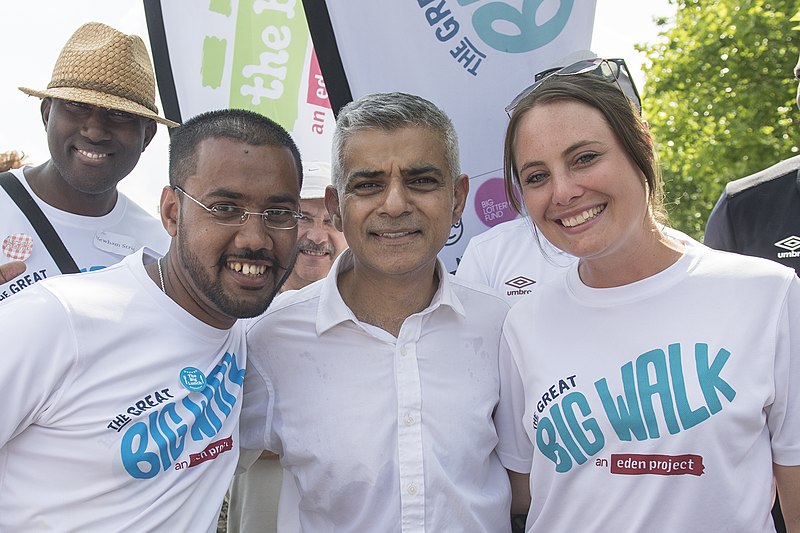 The Mayor of London, Sadiq Khan, has today announced an additional £400,000 investment in a grassroots fund to empower communities to counter extremism, tackle the rise in hate crime
offences and keep vulnerable Londoners safe from radicalisation.
Ahead of the 20th anniversary of the 9/11 terrorist attacks, the Mayor today reaffirmed his commitment to tackling violent extremism in all its forms and has made it clear that racism and hate crime have no place in the capital as London prepares to welcome more than 150 families from Afghanistan.
New City Hall investment builds on the work of the Mayor's Shared Endeavour Fund, which has directly benefited 25,000 participants and reached more than 600,000 Londoners2 overall since it launched in 2020 - enabling community groups to deliver vital grassroots projects that tackle all forms of violent extremism, racism, antisemitism, Islamophobia and misogyny.
Projects have taken place in every London borough, including during lockdown, and the new funding will empower grassroots organisations to continue to engage with Londoners of all ages and backgrounds to tackle a broad array of issues, from right-wing extremism, racism, Islamophobia and anti-Semitism to extremist content online and misogyny. It will include activities such as community activism, sports and arts through to education workshops and guest speakers to help empower Londoners of all ages to effectively and positively challenge racist, extremist and prejudicial ideas in their community.
Figures show racist hate crime in London rose by nearly 15 per cent during the pandemic. More than 20,000 racist hate crime offences were recorded across London in the last year alone1, compared with just over 17,000 in 2019. Arrests and convictions for perpetrators of terrorism have also been ongoing during the pandemic3 with children as young as 13 being recruited by Far-Right groups. 
Lockdown restrictions have meant Londoners are spending more time than ever online at home, away from support networks and at greater risk of exposure to harmful content, increasing their vulnerability to radicalisation.
It has resulted in a rise in online disinformation and conspiracy theories4 which has been used by extremists of all persuasions to promote hate and violence, making this second phase of the Mayor's grassroots funding more important than ever. 
Research showed a 179 per cent increase in hate crime against the East and South East Asian (ESEA) community in London around the start of the pandemic5 compared to the same period in the previous year. There was also a significant rise in racist language and threats being directed at Black footballers following England's loss in a penalty shoot-out at the UEFA EURO 2020 final, with the UK Football Policing Unit receiving 600 reports of racist comments sent to England's Black players, with 207 judged to be criminal.  A YouGov survey also revealed one in three people across England who previously did not think racism was a serious problem now do so following the final of the tournament.6
As a result of Sadiq's initial £400,000 investment in his Shared Endeavour Programme last year, which was match-funded by Google.org to create a total fund of £800,000, more than 30 grassroots community organisations have already delivered activities that empower Londoners to challenge racism, hate, intolerance and extremism. These have included education workshops with students or in schools, mentorship for the most vulnerable and the use of creative and performing arts projects to encourage participants to see things differently. As part of today's new £400,000 funding, community organisations have the opportunity to bid for grants of up to £45,000 from programme administrators, Groundwork London. 7
The Mayor of London, Sadiq Khan, said: "We will soon be marking the 20th anniversary of the horrific 9/11 terrorist attacks. Sadly, violent extremism remains one of the biggest threats facing many cities around the world, including London.  
"Nothing is more important to me than keeping Londoners safe. That's why I asked Lord Harris to complete a new independent review into what can be done to improve our city's preparedness for a major terrorist attack, and it's why I'm announcing that we'll be investing an additional £400,000 to do even more to help tackle violent extremism in all its forms. 
"This new investment is about empowering communities to deliver grassroots projects that not only work to prevent violent extremism and to stop vulnerable Londoners from becoming radicalised, but to tackle racism and hate crime. Since last year, the projects we've supported have already directly benefited 25,000 people and reached more than 600,000 altogether. This additional investment will ensure we can reach many thousands more."   
Ben Coles, Director of Development and Strategic Programmes, Groundwork London said: "Grassroots organisations know better than anyone what communities need and are vital to successfully addressing the pressing challenges that we face as a city. Seeing the impact of the Shared Endeavour fund in 2020-21, and the inspiring and excellent work of projects despite the challenges of COVID-19, Groundwork London is excited to continue administering the programme. We know just how valuable grant programmes like the Mayor's 'Shared Endeavour Fund' are for third sector organisations and their communities, enabling them to take action on the important issues they are facing. We look forward to working with the Mayor of London and the grant beneficiaries to deliver a successful programme."
Halima Shakoor, Programme Director of the Future Leaders Programme said: "The Future Leaders Programme works with young people in London to deliver comprehensive training and capacity building content so they may safeguard themselves, stand up for equality and speak out against all forms of hate; driving positive change in their local and school communities.

"Further to the recent period of school closure and the additional time spent online, young people have become significantly more vulnerable to the increased disinformation they face, increasing the risk of radicalisation. As a grassroots organisation, we have a real understanding of the needs of the young people in our local community and how to effectively meet these, allowing us to keep them safe."
Nigel Bromage, Managing Director Exit UK said: "The hard work and resilience of our local communities, businesses and organisations were crucial in helping us overcome the significant challenges of the past few months. As London now looks to come out of the pandemic and looks to rebuild stronger, we must now do what London does best: come together in times of need and be there for each other no matter what our background. 
"At the same time we know extremism and intolerance has not gone away and there are many who are intent on using the current situation, with all the uncertainties and conspiracy theories the pandemic brought, to sow division and hate within our communities. That's why grassroot projects such as ours are so essential to counter this threat. Through the Mayor's Shared Endeavour Fund, EXIT UK has worked hard to raise awareness of far-right extremism in London, build resilience against this harmful ideology and promote a positive version of British patriotism. By all working together in partnership we can defeat hate and intolerance and build a Britain we are all proud of." Photo by The Big Lunch, Wikimedia commons.