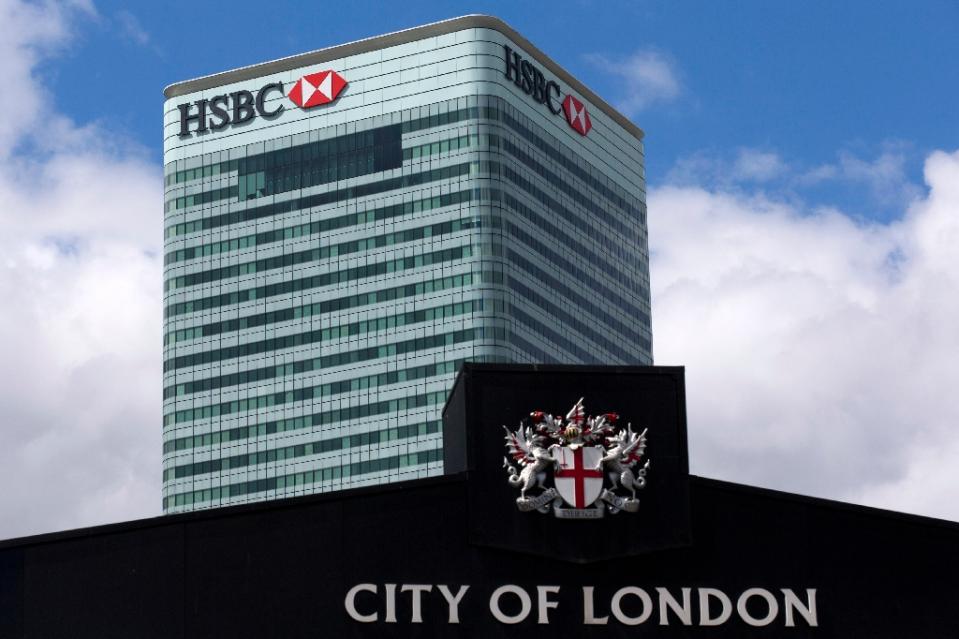 Europe's largest bank HSBC informed the financial markets on Monday it would remain headquartered in Britain, rejecting a move to Hong Kong despite concerns about increased regulation in the UK.
The Hongkong and Shanghai Banking Corporation said in a note to the London Stock Exchange following a board meeting on Sunday that London's many advantages meant it was "ideally positioned" to provide a home base.
"Having our headquarters in the UK and our significant business in Asia Pacific delivers the best of both worlds to our stakeholders," group chairman Douglas Flint told BBC radio.
It made no reference to growing fears in Hong Kong that the city's freedoms are being eroded by an increasingly influential China, a trend observers say could damage its status as a freewheeling finance hub.
The bank began its review of where to put its headquarters in April last year, two weeks before a British general election, amid growing calls for a crackdown on a sector seen by many voters as feckless.
It also cited as a reason for the review the British bank levy introduced in 2010 -- a tax based on the size of any British-based banks' global balance sheet which has since been scaled down.
A British finance ministry spokeswoman said the decision was "a vote of confidence in the government's economic plan and a boost to our goal of making the UK a great place to do more business with China and the rest of Asia".
- 'Big vote of confidence' -
The final choice had been between Britain and Hong Kong, although the review had also reportedly considered Germany and the United States.
The decision will come as a relief to the City, where bank stocks have suffered this year and there is growing concern about uncertainty from a referendum on Britain's EU membership expected this year.
"London is one of the world's leading international financial centres and home to a large pool of highly skilled, international talent," the bank's statement said.
"It remains therefore ideally positioned to be the home base for a global financial institution such as HSBC," it said, adding that the board decision was "unanimous".
Investors cheered the news, with HSBC's share price rising 1.27 percent at the start of trading to 446 pence and other bank stocks also rallying.
The bank's Hong Kong-listed stock rising also rose more than four percent at closing.
"This decision is a big vote of confidence in the UK," a spokesman for the British Banking Association trade body said, underlining that banking is "an internationally mobile industry".
"We cannot afford to be complacent about the contribution banking makes to the British economy, a sector that employs over half a million people".
The Confederation of British Industry's director-general Carolyn Fairbairn also said that banks were "critical for the British company".
"HSBC's thorough review and consideration of other international financial centres emphasises the need for the UK to continuously stay competitive on regulation, tax and talent," she said.
But John Thanassoulis, professor of financial economics at Warwick Business School, said HSBC's move raised the question of whether "the balance is pushed too far towards the banks".
"Systemic risks can materialise quickly," he said.
- Winning concessions -
While the uncertainty may have counted against London, slowing growth in China -- for which Hong Kong acts as an important gateway -- has made the former British colony less attractive in recent months.
Hong Kong is semi-autonomous, with an agreement that its way of life -- and freedoms unseen on the mainland -- must be protected for 50 years from the date of the 1997 handover.
Hong Kong analysts said the decision to stay in London was expected.
Frances Lun of Geo Securities said the headquarters review had been designed to put pressure on the UK government over regulations.
"Multinationals have been doing this for a century... to win concessions from the government because they are huge employers and contributors to GDP," he told AFP.
HSBC has been based in Britain since 1992 when it took over Midland Bank and shifted its headquarters from Hong Kong to London.
It was founded in Hong Kong and Shanghai in 1865 and 48,000 of its 257,000 global staff are in Britain. afp