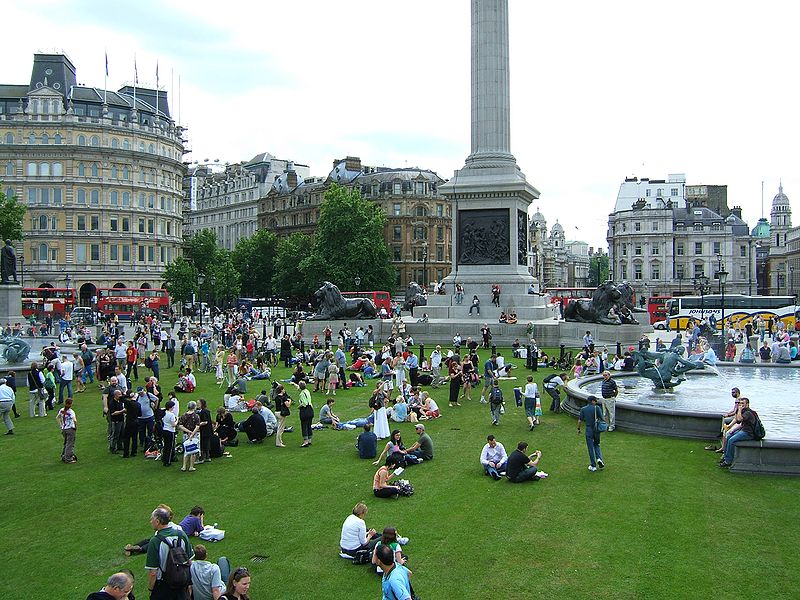 Key workers from across London, including NHS and London Ambulance Service staff, police officers and transport workers will be offered access to watch England's three group matches of the
UEFA Men's EURO 2020 Football Championship at a special Fan Zone in Trafalgar Square as a mark of gratitude for their incredible work during the pandemic, the Mayor of London, Sadiq Khan announced today.
Following the postponement of the tournament last year due to the Coronavirus pandemic, this summer's competition will take place across the continent, with Wembley Stadium hosting eight games including both semi-finals and the final.
The Mayor has today confirmed that Trafalgar Square will host a Fan Zone where all of England's matches, together with the semi-finals and final will be screened.
The Fan Zone capacity for the first two matches will be significantly reduced to just 750 people in order to meet social distancing regulations. the Fan Zone will exclusively host key workers for these first two England games against Croatia and Scotland to thank them for their monumental efforts during the pandemic.
If social distancing restrictions are lifted on June 21 in accordance with the Government's roadmap, up to 9,500 people will be able to attend each match screening at the Fan Zone from this date. A number of key workers will also be invited to attend England's final group game with the Czech Republic on June 22, with the majority of tickets made available via a public ballot. Details on how to apply for the free Fan Zone tickets will be announced in due course.  
To celebrate the first weekend of the tournament, Sadiq has also confirmed today that London is bringing renowned French artist JR's 'Inside Out' project to the city as part of the capital's cultural celebration of football and it's ability to bring people together.
Inside Out helps individuals and communities to make a statement by displaying large-scale black and white portraits in public spaces. 
Over the past decade, more than 400,000 people across 138 countries have participated in Inside Out sparked collaborations and conversations on a range of topics including diversity, feminism, racism, climate change and art.
Inside Out will transform Tower Bridge Road, in partnership with the City of London, into a large outdoor art gallery, celebrating London's community heroes who have made a difference to their local area during the pandemic. 
The project will then travel to different locations across the city throughout the tournament creating temporary artworks in surprising outdoor locations.
The Mayor believes that the EUROs can act as a catalyst for London's recovery from the pandemic. He wants as many Londoners as possible to be part of the action and for the competition to generate excitement across the city, following the awful events of the last year. Earlier this week, the Mayor announced plans for the capital's biggest ever domestic tourism campaign, called Let's Do London' which aims to encourage Londoners and visitors back into central London through a programme of one-off special events.
As a city where more than 300 languages are spoken, London's rich diversity is its strength. The capital's values of openness and tolerance will be celebrated in the Trafalgar Square Fan Zone, which will operate a zero tolerance policy towards racism and other forms of discrimination.
The Mayor of London, Sadiq Khan, said: "Our great city is completely indebted to the incredible work of our key workers who have gone way beyond the call of duty to help protect others and save lives throughout the pandemic.
"As a mark of gratitude, I am very pleased that we will be able to offer some of London's key workers – including members of the Metropolitan Police, TfL workers and NHS and London Ambulance staff - the chance to watch England's UEFA Men's EURO 2020 group matches against Croatia, Scotland and the Czech Republic in the Fan Zone on Trafalgar Square. 
"If we continue to keep on top of the virus, we hope to be able to host up to 9,500 fans in the Fan Zone after the initial first two group games – and I cannot think of anything more exciting than thousands of people coming together to cheer the England team on to glory.
"Londoners have sacrificed so much during the pandemic and I am in no doubt that UEFA EURO 2020 can act as a real springboard for the capital's recovery.
"International football tournaments in England have provided so many highlights over the years – from Sir Geoff Hurst's hat-trick in 1966 to Paul Gascoigne's wonder-goal against Scotland 30 years later. And I am sure EURO 2020 will provide more than its share of memorable moments." 
In addition to the Trafalgar Square Fan Zone, there will be a family-orientated 'Football Village' on Potters Fields Park, next to City Hall, for people to enjoy the London summer, relax, and soak up the atmosphere. It will feature free activities for all the family, including cultural entertainment, performances, football drills and community activities. 
Ahead of the tournament, London will host the final leg of the UEFA EURO 2020 Trophy Tour, following its journey through the host cities. The trophy will arrive in the capital on Friday, June 4 before travelling across the city and finishing its journey at Wembley Stadium.
The Fan Zone will also host a community event including an afternoon of entertainment on Saturday, July 10, the day before the final. 
Artist JR, said: "We are very excited to bring the new Inside Out photobooth truck to London at the occasion of UEFA EURO 2020, and organise a large scale action on different sites, as a re-awakening of the project after a difficult year for public art, when more than ever bringing people together is necessary. Inside Out is celebrating 10 years this year, by launching a new website and we are very much looking forward to this major photobooth action."
Zara Manson, Customer Service Assistant at Green Park station said: "After the last year, being able to cheer England on with fellow football fans is something I wasn't expecting to be able to do. Football tournaments like the EUROs are always an opportunity to bring people together and create an exciting atmosphere across the whole city. 
"We've been working hard to keep Londoners moving around the city safely and make it easier to travel at quieter times throughout this incredibly difficult year, so inviting key workers to the Fan Zone is a fantastic way to say thank you. I can't wait for the tournament to begin – come on England!"
Martin Machray, Joint Regional Chief Nurse for the NHS in London, said: "I'm incredibly proud of the tireless work of our brilliant NHS staff and frontline workers over the past year, caring for and protecting the public from this virus. I'm delighted that they'll be given priority access to fan zone matches this summer as a token of gratitude, for a bit of fun they truly deserve!"  
 Photo by Andrew Skudder, Wikimedia commons.