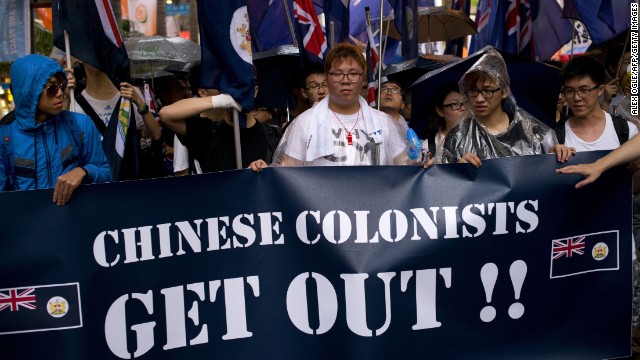 Flag raising ceremony - The focus for many protesters this morning is a flag raising ceremony in the Wanchai district where a number of senior city officials are expected to attend as part of the National Day celebrations.
Hundreds of demonstrators are already converging on the area, trying to make their way into Golden Bauhinia Square where the ceremony takes place.
The annual ceremony is often targeted by pro-democracy activists. But never has it taken place before against a backdrop of continued street protests and sit-ins by tens of thousands of demonstrators.
23:26 GMT - A new day, new protests - WELCOME TO AFP'S LIVE REPORT on the ongoing pro-democracy protests in Hong Kong where tens of thousands gathered once more overnight and look set to stay on the streets for today's National Day public holiday.
The pro-Beijing city authorities had hoped this day would be one of pomp, ceremony and celebration to mark the 65th anniversary of the founding of the People's Republic of China.
Instead they are faced with the prospect of thousands of demonstrators noisily using the day to renew their push for genuine democracy in the international financial hub.
afp, photo by i2.cdn.turner.com