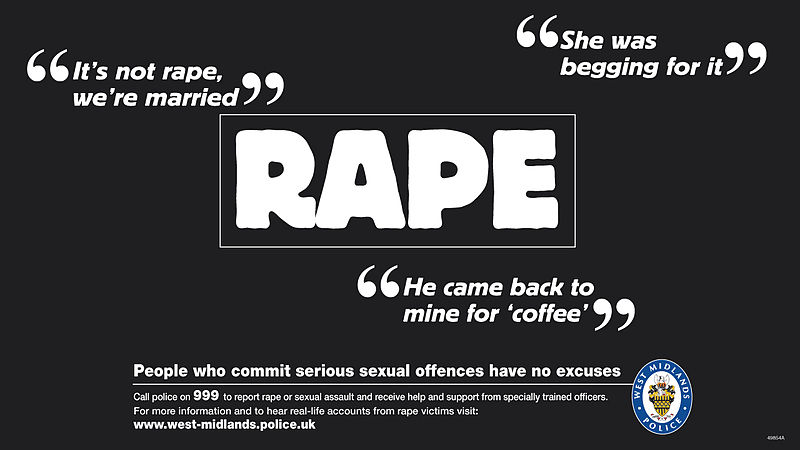 London's Independent Victims' Commissioner, Claire Waxman, has today, Tuesday 7thDecember, revealed shocking new data that shows two thirds of rape victims in the capital withdrew their
complaints and just one per cent reached trial. She has repeated an urgent call for increased independent support for rape victims and drastic improvements in how victims' mobile phones are requested and searched during an investigation. 
These most recent London Rape Review follows comprehensive research carried out in 2019 and provides an in-depth review exploring issues facing those who report rape and insight into requests for phones and digital material. 
The review was conducted by the Mayor's Office for Policing and Crime (MOPAC) and looked at 450 allegations of rape made across London, alongside consultation from Independent Sexual Violence Advisors (ISVAs) – who offer support and advocacy to rape victims – and a survey of rape victims in London. 
Among the worrying statistics uncovered by the London Rape Review was an increase in rape victims withdrawing from pursuing justice. The report found that rape victims withdrawing from investigations, either through their own choice or feeling pushed and dissuaded too, increased by 7per cent overall, but within the first 30 days of an investigation this jumped from 18per cent to 64per cent of victims dropping out since the previous Rape Review published only two years ago. In addition, the most recent data has seen a five per cent drop in cases reaching trial – down from six per cent to just one percent, and that police are 12 times more likely to state no further action on a case if the victim's account shows to have any inconsistencies. 
The review also took an in-depth look at how requests for phones and digital material is gathered and the impact this has on victim's ability to stay engaged in the justice process. This revealed that 23per cent of cases involved police requesting a technology device from the victim and 50per cent of victims providing consent when asked. Many victims reported that requests for mobile phones were intrusive, unnecessary and they felt their behaviour and credibility were being scrutinised. ISVAs have reported similar experiences and emphasised that these interactions were influencing whether victims were willing to hand over their phones, as they lacked the trust that their mobile phone data will be searched objectively and appropriately
London's Independent Victims' Commissioner, Claire Waxman has issued a series of recommendations to the Met Police and the Crown Prosecution Service (CPS) to ensure that victims and survivors of rape have the best possible access to services, support and justice saying: "This follow up London Rape Review paints an even more shocking and worrying picture. This data has highlighted how deeply entrenched rape myths and stereotypes are in our criminal justice system and how far we still have to go in order to restore trust and confidence that rape victims will get the justice they deserve. This research has revealed that there is still a disproportionate focus on the victim, rather than the offender, and this is having a serious impact on the number of victims progressing through the justice process and is reflected in current prosecution rates.    
"What we need to see, urgently, is vastly increased support for all rape victims right from the very start of reporting and the onset of an investigation. There also needs to be major improvements to the police process of requesting, searching and returning a victim's mobile phone, and we need Police and CPS to urgently embed an 'offender-centric' approach and tackle the rape myths and victims blaming that, sadly, remain endemic."
A female victim who reported a rape to police just short a year after it happened said: "When I finally got up the courage to speak out and report what had happened I was told that the Police needed my phone and the office couldn't tell me why my phone had been requested, even though my attacker filmed the attack on theirs. The Police didn't take his phone in the original investigation because he lied and said there was no evidence on there, and they believed him.
At a follow up meeting about my case a police officer told me that 'drunk consent was still consent' and that as I wasn't unconscious during the attack, I probably did consent and just regretted it! I was made to feel like it was my fault. The worst thing is, it is still ongoing 3 years after the attack – one of the reasons being that they had to redownload my phone a year after first taking it, as it wasn't done properly the first time. A year after finally taking my attacker's phone, they have only now found the video I said would be on there. 
Instead of blaming me and scrutinising my life with focus on my phone and my behaviour, they should have taken his phone and looked at the evidence immediately. By trying to do the right thing through reporting I have trapped myself in a nightmare that is never ending. Having experienced the justice system, I would not encourage other victims to report."
A male victim who attended an interview with officer to discuss making a formal report of a rape by a stranger said: "It was horrific to sit in that station and listen to the people who were supposed to support me and help me, ask for my phone for 'a couple of days' to see 'if there was any evidence that would discredit me" even though I was attacked by a stranger. They referenced old fashioned, harmful stereotypes of the 'gay cruising lifestyle' as the rape took place in a taxi by a stranger, making me feel hopeless that any police process would work in my favour if the impression was that I asked for this to happen. I was repeatedly told about how long and intrusive the investigation process would be and how low conviction rates were, leaving me feeling completely disempowered and dissuaded. As one senior officer told me, 'my wife and I sometimes get drunk, have sex and don't remember it, that doesn't make it rape.' This showed a clear lack of care and understanding of the trauma I was experiencing and felt re-victimising to have the rape diminished in this way. They made me feel like I was wrong about being raped, even though I was still piecing together and processing what happened 48 hours prior to sitting with them in the police Interview room. This ultimately led to me not going ahead with a prosecution process, and hindered and prolonged my healing process."
London's Independent Victims' Commissioner, Claire Waxman said: "Testimony from ISVAs suggest that police officers may be inadvertently influencing victim decisions to withdraw, due to police officers emphasising just how complex and challenging the justice process may be for victim. ISVAs also reported that interactions between police officers and victims have included harmful myths with questions about the victim's behaviour, intrusive questions about sexual behaviour, or dismissive and disbelieving attitudes.
"While police officers may have intended to manage victims expectations of the investigation, their heavy handed approach, which lacks any understanding of trauma is damaging victim's confidence and trust to stay in the process. Victims are being pushed out of the system as they are made to feel like they are the one on trial. 
"This is why I am calling for both the Metropolitan Police and the CPS to urgently deliver on their previous commitment to roll out effective training on the impact of trauma on memory and recall and introduce new training to ensure all alternatives are explored first before a phone is seized – to minimise this re-victimising and intrusive process."
Sophie Linden, Deputy Mayor of Policing and Crime says: "We have to restore the trust and faith of rape victims in our justice system. As this report shows, there remains a persistent and disproportionate focus on looking for ways to discredit a victim and their case, rather than investigating the alleged crime and suspect. 
"Since the London Victims' Commissioner's 2019 review of rape cases in the capital, the Mayor's Office for Policing and Crime (MOPAC) has led the way in pushing for improvements in the police response to rape and sexual offences. MOPAC has developed a new approach, working with academics, that has been piloted in Avon and Somerset Police.  The Programme called Operation Soteria is  funded by the Home Office, and seeks  to improve convictions for rape cases, and to ensure victims are better supported through the investigation process. This has resulted in bearing down on prolific offenders and the introduction of measures aiming to reduce the number of victims withdrawing from pursing cases.  This work is now continuing in the Metropolitan Police, before going to other Forces.
"We also know that this is not a police matter alone, our entire criminal justice system must continue to work together to overhaul the low conviction rates for rape, so that victims have the confidence that justice will be served." Photo by West Midlands Police, Wikimedia commons.