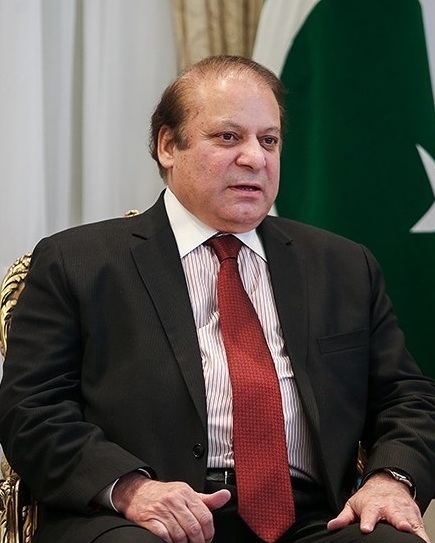 Pakistan's former prime minister Nawaz Sharif was sentenced in absentia to 10 years in prison by a corruption court in Islamabad Friday, lawyers said, dealing a serious blow to his party's
troubled campaign ahead of July 25 elections.
The verdict, a potentially significant boost for the main opposition party led by former World Cup cricketer Imran Khan, immediately raised questions over whether Sharif will return to Pakistan from London, where his wife is receiving cancer treatment. Pakistan has no extradition treaty with the UK.
Sharif was ousted from his third term as prime minister by the Supreme Court last year following a corruption investigation and banned from politics for life, but remains a powerful symbol for his ruling Pakistan Muslim League-Nawaz.
He has framed the charges against him as a conspiracy by the powerful military, which has ruled Pakistan for roughly half its 70-year history.
Small protests quickly broke out after the verdict at the court in Islamabad, which was surrounded by heavy security, and in some other Pakistani cities including Multan in Punjab, the Sharif dynasty's provincial stronghold.
"We reject this decision," his brother Shahbaz Sharif, who is leading the PML-N into Pakistan's second ever democratic transition of power, told a televised press conference in Lahore.
"It is based on injustices. This decision will be written in black words in history," he said.
Khan for his part greeted the verdict with jubilation at a campaign rally in the Swat valley in Pakistan's northwest.
"Today all Pakistanis must offer thanksgiving prayers because today is the beginning of a new Pakistan. Now robbers will not go into assemblies, but to jails," he told a roaring crowd of thousands.
Lawyers said Sharif had also been fined eight million pounds ($10 million) and that the court had ordered the federal government to confiscate the high-end properties in London's exclusive Mayfair neighbourhood.
- 'Difficult position' -
Analysts said the verdict would damage the PML-N's campaign, as the less charismatic Shahbaz seeks to fend off the challenge by Khan's Movement for Justice and other parties.
"No matter what the PML-N says, the decision is going to damage their vote bank," analyst Rifaat Hussain told AFP, adding that he thought it unlikely Sharif would return.
Recent surveys show that up to 22 percent of voters are undecided, he said, and with further serious allegations of corruption against the PML-N leadership there is little chance of Sharif mobilising the "sympathy factor" after the verdict to attract support.
The ruling has put Sharif in a "difficult position", agreed analyst Rasool Bakhsh Rais.
"If Sharif does not come back, his party is over. If he comes back, he will have to fight cases and he will be suffering a lot -- but in this way he will save his party."
Sharif, who at times during his premiership appeared to seek a better relationship with Pakistan's arch-enemy India, has since his ouster repeatedly accused the military of wanton political interference.
The verdict coming just weeks before the polls fuelled narratives he was being targeted, said analyst Michael Kugelman.
"A culmination of fair justice served or politicized selective justice? Timing alone suggests the answer," he tweeted.
But Kugelman also suggested the party was becoming a "spent force": "The walls are closing in, and rapidly".
Journalists and activists have spoken of pressure by the military to censor positive coverage of the PML-N campaign amid allegations of a "silent coup". The military has said it does not interfere in the media.
The party has also seen a series of high-profile defections in recent weeks, further weakening its position.
The corruption controversy erupted with the publication in 2016 of 11.5 million secret documents from Panamanian law firm Mossack Fonseca documenting the offshore dealings of many of the world's rich and powerful.
Three of Sharif's four children -- Maryam, his presumptive political heir, and his sons Hasan and Hussein -- were implicated in the papers as owners of the London properties.
He himself was not named, but his children were "not financially sound" in the years the flats were purchased -- 1993-1996, according to the court judgement released Friday.
On Friday the court also sentenced Maryam to seven years in prison.
Sharif has faced -- and fought off -- similar challenges in the past.
In 1993 he was sacked from his first term as premier for corruption, while in 1999 he was sentenced to life in prison after his second term in office ended with a military coup.
Following the coup he was allowed to go into exile in Saudi Arabia, returning in 2007 before becoming prime minister for a third time in 2013.afp